Widmarc's Rockabilly Saturday Night
Presenting stories about early rock-a-billy and rock 'n' roll artists. How they got started. What influenced them. The bands that backed them. The record labels they recorded for. Why some became famous. Why others became very famous. Why others who had great sounding records faded and were never heard from again. You'll learn why the 50's rock music changed America and the entire world and why 50's rock n roll had such a strong influence on America's youth. Why it was a great time to be a teenager and why that time frame in America will never pass our way again. You'll be able to take a trip down memory lane to those thrilling days of yesterday so you can relive the rock n roll explosion of the 50's as if it were today.
Chuck Berry
Just Good Ole Rock a Berry
           Chuck Berry begin playing Professionally in 1952 and by 1953 he was working the "Cosmopolitan Club" in St.louis. Chuck added country riff's to his guitar work and had his own brand of Rock a billy or Rock a Berry. 
           Chuck Berry was probably playing rock a billy long before "Elvis'. Berry liked country, blues, calypso, and ballads and included them in his shows. 
           Long before he became a " Musical Icon" he was experimenting with different sounds and styles of music. He played guitar wrote songs sang and produced the kind of music that and his audience's liked. 
           Chuck Berry paid close attention to what his audience warmed up to and he gave them what they wanted to hear. He was a born showman and worked his talents to his best ability. He might have liked " Johnny Be Goode" but if you wanted to hear "Maybellene" that's what he played. Chuck Berry was and is a crowd pleaser and his shows are based on what you want not what he wants. This type of interest in people  is what leads to "Famous" entertainers. He formed his own group in 1953 called the 'Chuck Berry Trio'. 
           Berry and his piano player "Johnnie" Johnson put on shows at the "Cosmopolitan Club" that are remembered as legendary to this very day. Few people have had the talents on piano as did " Johnnie" Johnson. You can hear a lot of "Johnnie" Johnson's style in Jerry Lee Lewis. 
           Johnnie Johnson is the piano in most of Chuck Berry's recordings on Chess Records, the exception would be "Lafayette Leaks" another piano great who worked on some of Berry's recordings. 
           Since Country music was popular with white folk many white folks begin to attend Chuck's performance's at the "Cosmo" Club. The "Cosmo" was almost all black when Berry first began to perform there, however when word got around St. Louis about the this very talented black performer who played country music like you've never heard before the audience became 40% white. So much for "Charlie Pride" being the first kid on the block. 
           Everyone got along enjoyed a good evening of great music. And this was 1953 when everything was supposed to segregated. Well don't believe everything you hear. Many times music brings people together in peace and harmony when nothing else can. 
           In 1955 on a road show to Chicago Chuck met Muddy Waters his idol. He told muddy he was interested in getting on a record label and could he help him? Waters told him to go see "Leonard Chess" down at 47th and Cottage St. Chuck did that very thing and Leonard Chess was so impressed he signed him to his "Chess " label. 
           Chuck had written a country song called "Ida May". The title was changed to "Maybellene" "Chess Records" had a "Rock a billy" hit on it's hands and Chuck was on his way to becoming an "American Icon" and one of the most Famous Rock entertainers the '50s produced. 
                                         Carl Perkins said when he first heard " Maybellene" he said now there's a man who likes "country" music. The only difference between "Maybellene" and "Blue Suede Shoes" is a white man is singing "Blue Suede Shoes' and a black man is is singing " Maybellene". 
           "Maybellene" is just a tick faster than " Shoes" the style and beat are about the same and both have a toe tapping rhythm to them. One is rock a billy the other one is rock a berry. Life is just one big ole bowl of cherries or berries when you add the right ingredients to them. 
           No "Elvis" didn't invent rock 'n' roll or rock a billy and he and Sam Phillips didn't have rock a billy all to them selves. Other good artists were adding their own licks to the vast "Enterprise" called rock 'n' roll. "Maybellene" went to # 4 on the pop charts, # 1 on the R&B charts and never charted on the "Country Charts". Well if that's hard for you to understand you probably still believe in the "Tooth Fairy".   
                                            Ole Chuck was rock a billy "Ok" rock a berry. His records charted every time he put a song out, "School Days", Rock 'n" Roll Music, Almost Grown, Sweet Little Sixteen, Back in the USA, and many other hits. 
           He didn't have a #1 hit till 1972 when "My Ding a Ling", went to all the way to #1. Chuck Berry is known as the " Eternal Teenager", unlike "Dorian Gray" who never grew ole his "portrait" did. Chuck Berry's recordings never get ole they get better and better as time goes by. 
           I disagree with everything that the rock n roll hall of shame stands for, with few exceptions they did a good thing when inducted Chuck Berry in 1986. Johnny Be Goode was chosen to go aboard " Voyager" 1 as top rank listening music. Not a bad honor for the "Ageless Teenager". Hail, Hail, rock 'n' roll, Chuck Berry and rock a berry's billy's. Put him in the Rock a billy Hall Of Fame, "Bob" without "Maybellene" rock a billy wouldn't be near as good.
-Widmarc Clark
Oldies But Goodies
Turn your radio on in 2004 to a Rock station you won't hear Rock n Roll you'll hear a lot of noise . Rock n roll it not what it was, hasen't been since 1960. Frankie Avalon Fabian, Bobby Rydell, Bobby Vee along with, Bobby Vinton, Brian Hyland, James Darren, Jimmy Clanton, Johnny Tillison, Gene Pitney, Paul Anka, Dion, Frankie Ford, Ray Peterson, Joey Dee and The Starliters The Chiffons,The Shirelles, Neil Sedaka, Carol King and a lot of help from Dick Clark turned Rock a billy into a Saturday night joke.
We lost folks, gone are the get down and get dirty Rock a beatin boogie stuff. No more Joe Bennett and The Sparkletones, Dale Hawkins, Gene Vincent Sanford Clark and Link Wray. Link Wray could play more rock music in one rock instrumental than Duane Eddy could play all month.
Pat Boone as good as he was with his early cover recordings "An't That A Shame" "Love Letters In The Sand" decided to become a crooner. It was such fun while it lasted, Elvis, Johnny, Carl, Jerry Lee, and Gene Summers.
The great little record compamies Sun, Checker, Ace, Dot, ABC Paramount, Jan, Back Beat, Imperial, Speciality, Cadence, Duke, Ebb, Gone, Coral,Del-FI, Challenge, Rita, Hi, Doo-tone,Liberty, Roulette and the list goes on gave us many artist we might never have heard of.
We had Buddy, The Bopper, Ritchie, Eddie Cochran, Billy Lee, Ray Smith, Warren Smith, Johnny Burnette, Bobby Darin, Fats, Little Richard, Bill Haley, The Platters and The Del-Vikings and for a short time Tommy Sands. The DJ's would play your records if you could get it to them. You could hear it all R&B, POP, Rock a billy and Country all on one station ah those were the days. Marty Robbins made rock a billy, Webb Pierce made a stab at it, Sonny James "Young Love" was mixed in with rock a billy.
Guy Mitchell had out "Singing The Blues" Jim Lowe and The Green Door, and a ton of groups with the platters at the top of the list. Elvis was always at the top of the play list his records were played more than anyone however other artist did get their records played unlike today.
Today you can buy a package of old hits however it's selective many of your favorites Internet but again so many good songs get left out. For example Buddy Holly had many hits "Rave On", "Think It Over", "It's So Easy", "Maybe Baby", all that is ever offered is "That'll Be The Day" and "Peggy Sue".
From 1954 till 1960 were the days of great Rock a billy and Love Songs .Those soft lovely romantic love songs when played at a dance hop made you want to find your favorite girl get her out on the dance hold her tight melt all over her and run down her leg. Now that was what the 50's was all about, Love, Romance,and Rock n roll where in the "Hell" did those great days ever go??
When I look around my studio at all the great recordings I have acquired down through the years I ask myself was I Lucky to be a Teenager in the 50's when those song were being played on the radio ?? Yes I was very fortunate indeed to have grown up in the 50's. Those ole 45's, 33 and 1/3 vinyls are collectors items today. Try and find some Sun recording's especially one by "Elvis" I have a 78 by "Elvis" I Forget To Remember To Forget" and "Mystery Train". I wouldn't part with it for any amount of money. No one would pay me the amount it would take to part with it anyway.
The recording industry has changed,the way records are produced has changed, the songs have changed,the artist are different and the few record record companies that are left are very different from the 50's.
The Magic that was the 50's is gone lost in the record grooves forever. Gone too are most of the artist who recorded those great songs. But the "Thrill" when you hear the oldies is just alive as the day they were recorded. They had style, class, a good beat, meaning, and they touch everyone who hears them in a (Special Way). If they were played again today in the same way they were played back then with the DJ adding his special touch to it we could start a whole new world.
"OK" I'm dreamin' and that's a good thing. But I wish I could go back to just one tomorrow in the 50's to relieve one day, I'd trade all my tomorrows for the fun we had back then. Someone once said todays music an't bad, "But" it ain't nothin' like we had in those good good ole days of rock a billy rock n roll. Now let me see,where did Bob Timmers say that Rock a Billy revival show was? Remember, You'll Never Grow Ole If You Love Rock a billy, Rock n roll.
-Widmarc Clark
Link Wray
The Chilling, Thrilling Sound Called "Rumble"

When I was a teenager in the 50's Link came came to my high school in Rockville, MD, to do a sock hop. I had never heard anyone play Guitar like Link. It was a great time to be a teenager with all the good music was being played on the radio. Then I hear this guy up there on stage playing stuff that just sent "CHILLS" up my spine. Rumble hadn't been released yet but Link told us it would be out soon on "Cadence" Records.
Milt Grant was the "emcee" and Link's Manager. It was a great night. They had a guy singing named " Buddy Presley" who Milt Grant said was "Elvis's Cousin. he was good looking and maybe he did look a little like "Elvis". I found out later after I got to know Link that he was a local singer named Buddy Hopkins.
Buddy worked with Link for a few more shows and then disappeared forever. Buddy if your reading this where in the Hell are you ?? Link was playing various place's in Wash.D.C. and I began to go down to see him. At that time Wash.D.C. was Country all kinds of Country artist played there.
Jimmy Dean, Patsy Cline, and Jimmy Case played at the "FAMOUS". Jimmy Case now own's his own talent agency and record company just out side Nashville. Link played at the "Rendezvous" I went to see him with my buddies you could get in at 15 I know I did it. You couldn't get served Beer or Whiskey but you could get served "coke'.
I made friends with Link, ( Vernon Wray) Links brother, his stage name was "Ray Vernon". Doug Wray and Shorty Horton. Bobby Howard was always around he played guitar and sang. I used to pal around with Bobby he was a fun person. Barry Sidell was another person who was always around and fun to be with.
And who could ever forget the one and only Barry Richards DJ at WDON where I later worked as a DJ. The last time I heard Barry he was working in New Orleans as a DJ. That was 25 years ago. With Barry's gift to gab he's probably the President of some small country these days.
Roy Clark played at "Vinnies" and I'd go down and see him. There was a small sign in the window of "Vinnies" written in hand "Roy Clark" appearing nightly. That was 1958. Wanda Jackson came into D.C. and needed a Guitar player and Roy got recommended,and you know the rest of that story.
There was a Saturday nite TV show called "The Town And Country Jamboree" that was produced by Connie B Gay it aired on WMAL channel 7. Jackson Weaver was emcee he was the other half of the morning comedy team on WMAL radio show Hardin and Weaver, Frank Hardin was his team mate.
Everyone worked the Town and Country Jamboree Jimmy Dean ,Jimmy Case, Patsy Cline, Geroge Hamilton the 4th, Vernon Taylor, Clint Miller, Roy Clark, Dale Turner, The Palmetto Ranch Boys, which was " Link Wray" and The Wraymen, sometimes spelled "Raymen". THe String Dusters, Bobby Stephenson, Buck Ryan, Ralph Case, Bill Harrell and many, many others.
When Link played the "Ozark Club" he cut "Rumble" in Nashville and it sold over a Million copies. He went on tour and I traveled with the band for some shows in the Philadelphia,New Jersey, and New York.
It was wild. On one tour Bobby Darin, Baby Washington, Jan and Arnie, who later became Jan and Dean, Jesse Lee Turner, The Bell notes, Fabian, Frankie Avalon, and Jimmy Clanton were all on the same tour, riding on a Greyhound bus. It was nuts ,those were the days. Link's band backed up everyone and no one thought anything about it, and Link got no extra money for doing it.
Link never received the proper amount of royalties due him from "Rumble" Link Wray would be a Millionaire today if he had been paid properly for "Rumble" and "Rawhide". Link worked the "Ozarks" the"Lions Den" while Charlie Daniels and the Jaguars played Bennies Rebel Room along with Big Al Downing.
Three years ago I saw Charlie Daniels at a State Fair and asked him did he remember those early days in Wash.D.C playing at the Rebel Room he said he didn't remember playing there giving me a short answer. I guess some people don't care to remember how they got started they just care about their present fame.
While working a tour in Madison, Wi, with Duane Eddy link had recorded a Instrumental called "Lillian" Link played it on stage and afterward Duane Eddy came back stage and asked link to show him the chords to "Lillian". Link replied your a Big Name Guitarist buy the recording and learn it for yourself. Link is a gracious loving person and has many, many friends "Eddy" was famous and working for Dick Clark and making five times much money as Link. He could have said I'd like to record the song and you and I can both make a buck or two and believe me Link could have used the money. The recording had some serious chord progressions in it and Duane Eddy would have needed to know those chords to properly record it. Duane I still got my copy do you want to borrow it ?
I have known Link Wray since 1957 we go back to his early days in Wash.D.C. I spent a lot of time with link. There were the recordings at Edgewood Studios on Vermont ave in D.C. where "Rawhide" was recorded. The Record Factory which was owned by Vernon Ray up stairs from Edgewood and later moved to Accokeek and renamed Wrays Three Track Shack. When I got out of the Navy in 1965 I went to The National Academy Of Broadcasting in Wash.D.C. And got a job as a DJ at WDON which was then A Country Station. I got Webb's Furniture to sponsor a show featuring Link and Ray. I went to work for Ray's record co as a talent for several years. Johnny Paycheck did some recording for Ray along with the late great Roy Buchanan. The Studio from the outside was nothing to look at but the inside where it counted produced some mind bending sounds.
Everyone has passed on except Link. Vernon Wray took his own life in Arizona several years ago. Doug Wray and Shorty Horton have both died and Link is 75. I think "Rumble" was the greatest Instrumental ever recorded, it sounds as good today as it did in 1958. Many have tried to reproduce the "Chilling" sound that was a Genuine Masterpiece so many years ago, it cannot be done. Link Wray recorded the real article, and "RUMBLE" has and will continue to be a "Rock Classic".I can say with certainly I was there when it all happened " I Guess I Outta Know" Link Wray is a one of a kind Special person who had the knowledge and skill to produce sounds on the guitar that no one else would ever be able to to do. I recommend all Links early recordings on EPIC. It will bring you hours of enjoyment even though it't only 12 songs 6 per side you'll play them over and over and you'll ask yourself why didn't I do this thirty years ago.
Today Link lives in Denmark and travels to the USA to do shows very infrequently. I wish you could have been there back in the 50's when all this was brand new. I can still heard the sounds of "Rumble" Rawhide" and "Jack The Ripper" as they remind me of a time in America when things were simple, fun, exciting and no had the answers to all the nutty questions beings asked today which don't deserve an answer any way. It's true, I'd trade all my tomorrows for just one yesterday to go back and live 24 hours in those thrilling days when Rock was young and Link would say Hey Bobby I'm glad to see you sit down and listen to my new song. Hail, Hail, rock and roll and Rock a billy.
-Widmarc Clark
Carl Perkins
Blue Suede Shoes Forever
If I had a Nickel for every time Blue Suede shoes has been played I would not be writing this column. "Blue Suede Shoes" is probably the most popular song ever recorded.
Carl Perkins had a smash hit with it in 1956 and it went to No.1 on the Pop, Country, and Rhythm and Blues Charts.
No other song has ever done that. Carl had only one hit in his long and successful career, however he didn't need but one. Shortly after Elvis left Sun and went to RCA he recorded "Blue Suede Shoes" and the song became a Smash Hit all over again.
Most people then and today believed that Elvis was the originator of "Shoes". Carl just racked in all extra money and went quietly about making more records.
Carl Perkins was a great Guitar picker and song writer. Why Sam Phillips kept so much of Carl Perkins material in the can we'll never know. Carl recorded many songs at Sun and the release of those songs could have been done on a monthly basis.
Sun released "Matchbox" b/w "Your True Love" which flopped and should have been a hit. Carl had an auto accident after the release of "Shoes" and when he recovered "Elvis" had covered the song and Carl never got back his momentum.
Carl Perkins was born in 1932 in Tiptonville,Tennessee, and grew up working in the fields helping his family make a living. Carl's dad had tuberculosis and he and his brothers worked where ever they could to make some money. They picked cotton and any other type of work. finally the family had to go on welfare as there just wasn't enough work to be found to support them selves.
Carl had an obsession with music and put together a cigar box with two strings. Today a cigar box guitar seems unreal and in fact would be. However in 1937 it was a way of life in the south and in many other places when you have no money.
Carl saved up $3.00 dollars so the story goes and bought a a very used second hand guitar from a field hand named John Westbrook. Let me stop here and bring a very important point to light. We seem to have a lot of problem "Today" with race relations. White and blacks can't seem to get along. We don't seem to agree on much of anything except that we can't "Agree" on anything.
Such was not the case years ago among "poor" whites and blacks. When your "poor" it hurts and it makes no difference what color you are it doesn't take away the hurt of not having anything. You can't feel your better than some one else when your both "Dirt Poor".
Hank Williams knew what it was like to be "poor" and he learned to play guitar from a black man named "Teetot". Elvis knew the pain of being "poor" and always had a Special "LOVE" for black people, he learned his music from them and helped them from time to time.
No different with Carl Perkins he learned many lessons about life and music from black people. We can all get along if we have "Two things in common. "A Humble Heart", "And A Love For Music".
Carl and his brothers had hard times for years working in mills mattress factories, moving here and there to find work. Carl married Valda Crider in 1953. She was from Corinth, MS and played the piano and encouraged Carl to keep playing music.
By 1954 Carl was back living with his father in the back room of of his house with two children. It was at this point that Carl decided that playing music was at least steady even if the the pay was only three dollars a night.
Carl would mix rhythm and blues with country and when the folks got "Dixie Fried" Carl would do a little experimenting and since no one came to hear the music as their first choice anyway why not mess around with some different styles of music.
Everyone was there to drink, fight, pick up women and all in all have a good time. Perkins has recalled that it was rough, real rough and at times right down dangerous. Someone would throw a beer can then the "blood" would start rolling we'd play louder and louder and when all hell began to break loose we'd try to get out of there before our equipment got busted up.
By the summer of 1954 Carl was making $30.00 a week. He met a singer by the name of Curley Griffin who had a local radio show in Jackson. Curley let Carl use the radio stations recording equipment to make some demo tapes.
Carl sent tapes all over and most came back unopened. Even though he was making $30.00 a week playing music and it was the most money he had ever made he became pessimistic about making music a career. Then one day he heard "Elvis" singing "Blue Moon of Kentucky" on the radio. Carl couldn't believe what he had heard. It was exactly what he was doing.
Carl had been mixing Bill Monroe and John Lee Hookers electric stuff for a long time. When Carl found out Elvis recorded for "Sun" he decided to make a trip to Memphis. When Carl introduced himself to Sam's secretary Marion Kiesker she turned him away telling Carl they were to busy with Elvis to take on any new acts.
Carl decided to wait for Sam and when he showed up in his new Cadillac, Carl was dumb founded. He had never seen a better dressed man in his entire life. Carl said even the man's socks and tie were the color of his Cadillac. Man was a "Snappy Dresser" for sure and he had an hear for raw talent. He liked Carl's compositions and promised him a contract. It has been said that Sam Phillips made the comment that Carl Perkins was the Greatest "Plough-Head" in the world. Carl's first release wasn't on "Sun" Sam released "Movie-Magg" and "Turn Around" on his "Flip" label.
"Carl Perkins" invented "Rock a Billy". He has been called the "Father" of "Rock a Billy' and for my money I give the "CROWN" of "Rock a Billy" to the one and only "CARL PERKINS". He wrote songs he played lead guitar on his recording's he arranged his recording sessions and for the most part he produced all his "Sun" recordings.
In 1956 Carl Perkins sold one million copies of "Blue Suede Shoes". He was the first "Sun" artist to do so. Sam Phillips bought Carl a new Cadillac Fleetwood and gave Carl the the keys to the car in front of the Cadillac dealership. Carl Perkins made some great recordings at "Sun'. In 1958 his career took back seat as Pat Boone, Ricky Nelson and many other rock a billy wanna-be's came on the scene.
Ricky Nelson took Carl's sound, watered it down and made millions in the process. Carl kept his rough edges and that sound of Carl's is what makes his recordings sound so good to this very day. Carl made one movie while at "Sun" "Jamboree" and sang "Glad All Over" it was Carl's last release on the Sun label.
Carl left "Sun" in 1958 and signed with "Columbia". Sun Records played an important in Carl's career. Carl also played an important role in the Sun record story. Sun never made any money until Carl recorded "Blue Suede Shoes". When "Shoes" broke nationwide it paid back all the investments Sam had put into the label.
Carl recorded for many record labels during his life time. He kept rockin' and did what he enjoyed most, playing music. Carl Perkins remained a humble man throughout out his life even though he became bigger than life. Carl Perkins was also a true "American Icon" and made many contributions to American Music and brought a new style of music to America called "Rock a Billy".
Some people when they pass we really miss them. Edgar Bergen and Charlie McCarthy, Red Skelton, Roy Rogers, Bob Hope and Carl Perkins. I bought Carl's records and I never passed a chance to buy something by Carl that I didn't have, in some cases I bought two of them just so I would more than one.
Carl Perkins was with us from 1932 till 1998 and I still miss him. I can't think of one "BAD THING" about Carl Perkins and I never heard anyone say anything "BAD" about him. When you write about most "Entertainers" there are things you don't mention. With Carl Perkins you can say it all because he was one nice Human being.
I plan to meet him in Heaven and ask him to show me the lead off riff on "YOUR TRUE LOVE". And I suppose the rest of you will have your favorite song for him to show you. Carl Perkins played the most satisfying rock n roll you'd ever want to hear and made it sound easy.
–Widmarc Clark
Whole Lotta Shakin' Goin On
The Greatest Rock And Roll Record Ever Recorded
When "Whole lotta Shakin" hit the air waves no one had ever heard any thing like it before. The more the DJ's played it the better it sounded. They could play it all day and get no complaints.
The song started off like a five point Hurricane coming to shore at Two Hundred and Five Miles Per Hour and blew away every rock n roll song ever recorded before it. Shakin was fast paced and rocked with every note played.
Jerry lee screaming with the confidence of a man posessed "Come On Over Baby A Whole Lotta Shakin Goin On" and that wasn't all he said, no he had more to say, a lot more, he had the bull by the horn, and baby you can't go wrong we got A Whole Lotta Shakin Goin On.
When Lewis said all you gotta do is stand in one spot and wiggle around just a little bit that's when you got something, shake it baby, shake it,shake it, shake it. Every teenager in America knew exactly what he was taking about. The song had sex, romance, and temptations that went right to the core of what was on every male teenager in the country, how do you get in a girls pants ? Jerry Lee and "Shakin" showed us how to get done in 2 minutes and 15 seconds.
Whole Lotta Shakin was recorded in January of 1957 with Jerry Lee Lewis on piano Roland Janes on guitar and Jimmy Van Eaton on drums. Much has been said about "The Sun Sound" well it's all true every bit, every note played, every bar used to express the music that came from the Studio at 706 Union Ave in Memphis.
It was a small place uninhibited and every artist who recorded there did what they felt was right for them. Sam or Jack Clement turned on the tape and said do it boys do what you feel like doing.
That was the atmosphere at Sun Records no time limit on anything or anybody any artist who might be there when another artist was recording could pitch in and help out where needed. That all helped to make Sun records different from any other record company on the planet.
Just pick up a guitar or bass and join in. And there was plenty of talent at Sun. Sun records most likely had the most talented artist on one label than any other record company in the history of recorded music.
Certainly no other independent record label had the talents of Elvis, Carl Perkins Johnny Cash and Jerry Lee Lewis. Every one of them made it to the Rock & Roll Hall of Fame.
Elvis and Johnny made it to the Country Music Hall of Fame. Such was the time frame when Jerry Lee recorded "Shakin". Just three instruments made that "BIG" sound. Roland Janes a fine guitarist always seemed to know the ins and outs of Lewis' music, he knew when to let up, he knew when to get down and he did it with exact precision. Roland Janes always knew where Lewis was headed on every song they recorded.
There was no better drummer than Jimmy Van Eaton, he provided the full driving rhythm section, he had to, his drumming typically was the entire rhythm section. Shakin was written by (David williams and Sunny David) it was issued as Sun 267. There were four warm up versions of " Shakin " recorded none were accepted as commerical enough for release. Then came take number 5 and that one had all the commerical appeal that was needed. Sun 267 had no bass guitar Jerry Lee played bass on the piano.
Probably no one has played more aggressively on piano than Jerry Lee Lewis on the four opening bars of "Whole Lotta Shakin". Jimmy Van Eaton follows pounding away on the drums and is very forceful in the bar fill between the first and second verses. He slams into a schuffing rhythm between the snare and bass drums that shows everyone he has charge of the situation. His drumming explodes to the point that when Lewis goes into his solo it sounds like the drum roll will continue through the entire 12 bar break.
Rolands guitar sounds great not loud but rather subdued notice how he lays back playing after the line "we got chicken in the barn", then he comes out front with some great bluesly guitar work during his solo. Jack Clement added a bit of "echo" to Jerry' piano when he stuck a microphone under the key board. And I'll bet piano players all over the world pulled their hair out trying to get their piano to sound like Lewis's did on "Whole lotta shakin" but you'll never get that sound unless you got Jack Clement at the controls recording the session and you must have the "Sun Sound" found only at The Sun Studio in Memphis. "Cowboy" Jack Clement was way ahead of his time when he was an "Engineer" at Sun. Jack Clement wrote the flip side "It'll Be Me" Sun 267.
Shakin went on to sell 6 million copies, it made Jerry Lee Lewis a "Super Star". It was and is to this day "The Greatest Rock n Roll Record Ever Recorded". What was done in the studio that day has never been duplicated in any shape fashion or form. Not even Jerry Lee Lewis on his best day has ever been able to record "Shakin" again as he did in January of 1957.
Try as many have tried to, but none have done it. "Whole Lotta Shakin Goin On" is he real thing and the Original cannot be done again. If you don't have it, go buy it. Put on some ear phones and turn it up loud and enjoy Jerry Lee Lewis, Roland Janes, and Jimmy Van Eaton making History that will last as long as mankind has ears to hear.
–Widmarc Clark
THE COLONEL
The Best Manager Elvis Ever Had
Elvis Presley had the best manager any entertainer could ever hope for. In 1954 Oscar Davis told Tom Parker about a young teenager he had seen perform up in Memphis and said to Parker you ought to check this kid out he really puts on a wild show and gets the women all worked up.
Parker who always did what it took to get what he wanted. Made the moves of a master Chess player and ended up the manager of the most famous entertainer who ever lived.
Parker had ties into RCA and the publishing business and didn't waste any time getting Elvis set up to make millions. He was a carnival man who only understood things in dollars and cents. Once parker created his marketing plan he got the full help of RCA and the William Morris agency.
In less than one year Elvis was the biggest selling artist in the music business and highest paid performer on TV. Parker also enlisted the help of Beverly Hills movie merchandiser Hank Saperstein into licensing seventy eight articles every thing from bracelets to lipstick, scarves, dolls plastic guitars, that pulled in $22 million not counting record sales or concerts in 1956.
This was at a time when managers did little more than book concert dates for their artist.What Tom Parker started is the guide that the music business operates by today. Much has been said about how Tom Parker cheated Elvis. The truth is Tom Parker made Elvis Presley millions of dollars and there would be no Graceland to visit if it had not been for for the vision of The Colonel.
Tom Parker knew entertainment inside out upside down and backwards and when he found Elvis he had the vehicle to to put his knowledge to work.
In Elvis' entire show business career he was never overexposed and with good reason. It was Tom Parkers belief that if they see Elvis for free, they won't pay to see him. With very little TV exposure "Heartbreak Hotel" sold over one million copies at the rate of 70,000 copies per week. Eighty-two percent of every TV set in America saw Elvis preform on the Ed Sullivan Show and Elvis got $25,000.00 for each of his three prformances.
Then came the movies and more money rolled in. In each movie that followed "Love Me Tender" The Colonel got Elvis a better deal. The movies may have been silly but they made money.
Elvis went into the Army as a regular soldier as The Colonel instructed him to do. Elvis came out in 1960 as a model American citizen who had done his duty to his country. More money making deals were made with movie companies, publishing, and better record deals were made.
When the movies ran their course Parker set up a deal with the International Hotel in Las Vegas. After the come back special in 1968 Parker struck a deal with with "Kirk" Kerkorian who made millions when sold his Airline "Trans International" and was building a $60 million dollar resort.
Kerkorian already owned the Flamingo and knew good entainment would draw people into his 2,000 seat showroom. Bill Miller who would operate the International for Kerkorian wanted Elvis.
Elvis would do a four week engagement two shows a night seven days a week. Usually performers get Monday and Tuesday off. Elvis would work this schedule for $100.000.00 per week.
For the four week engagement Elvis drew 101,500 people. And the International grossed $1,680.000 dollars. The Colonel upped the price to $125.000.00 per week.
Parker took Elvis back on the road in the 70's to sell out crowds. If you wanted to book Elvis you put a million dollar deposit aganist 65% of the gate.
The road shows became a major business with Elvis getting $300,000.00.for a nights work. Elvis was the first entertainer to sell out madison Square Garden and grossed over $730.000.00.
Maybe every deal The Colonel made for Elvis wasn't good such as the time he asked for 5.4 million for all the rights to every song Elvis had recorded up to 1973 and negotiated a seven year contract with RCA for an annual payment of $500,000 for two albums and four singles a year.
The final deal on on Elvis' records up to 1973 came to $10.5 million. The colonel got $ 6 million and elvis got $4.5 million.
After taxes Elvis got $ 2 million for the best recording's he ever made. Elvis needed the money to settle up with Percilla. When his divorce came final in 1973 Percilla would recieve $725.000, $4,200 a month which later would be upped to $6,000 per month and $4,000 a month child support.
The Colonel was always there to get Elvis out of any mess he got into. He always found a way financially to bail Elvis out of his many money problems. In the end The Colonel took most likely 50% of what Elvis earned. He had the right, Elvis never complained. There was no way he could have earned any where near that much money had it not been for The Colonel.
When Elvis got to the point that he understood nothing that had to do with common sence, The Colonel took care of business and ran the show. Everyone looked to The Colonel to take care of business which he did. Vernon always knew Tom Parker had an Ace in the hole when trouble came and it came often.
Tom Parker had (ONE) client and he took care of him. After Elvis died Tom Parker took care of business and ran the show. Later a judge acting in behalf of Lisa Marie took away most of the royalties that The Colonel held in the selling of the Elvis catalog.
Today all those items are sold through Elvis Presley Enterprises in Memphis. When Elvis died his estate was worth around $10 million.
Today it's net worth is over $450 million and growing. The Colonel had a BIG hand in that growth. what he did with the career of Elvis will never be equaled. All said and done Tom Parker and Elvis earned over a Billion dollars. Thats says a lot for an immigrant from Holland with little or no education and a poor boy from Mississippi who had a one in a million odds to become one best know entertainers the world has ever known. Colonel Tom Parker the best manager Elvis ever had.
–Widmarc Clark
The Last Ride of Hank Williams
The mystery that surrounds Hank Williams death still lingers to this very day. And he's been dead almost fifty-one years. What caused his death will most likely never be known.
Dark clouds of doubt begin to surface shortly after his passing. The last 48 hours of his life are filled with shadows that remain one the biggest mysteries of American History. The world of Country music was shocked beyond belief when the news that Hank Williams had died at the young age of 29 on New Years Day 1953.
No matter what is written about the last hours of Hank Williams someone will say that's not the way it was told to me. After talking with people who knew Hank Williams personally and to people who were close friends of the family here's most likely what happened in the final hours of Hank Williams life.
Hank Williams loaded his 1952 powder blue Cadillac convertible on the morning of December 30th for a trip to Charlestown, W.Va. A.V. Bamford hired him to play a New Years Eve show in Charlestown, W. Va. Hank didn't want to be late for the show. He was on a come back trail after some hard knocks. The last one was being kicked off the Grand Ole Opry because of his problem with alcohol.
It was a short four day trip and he was taking as little as he could get by with. Just his guitar some personal items and two changes of stage uniforms. He hired Charles Carr a nineteen year old freshman attending Auburn University to drive him to Charlestown, W.Va, for a New Years Eve show and on to Canton, Ohio where the Drifting Cowboys were to meet him for a 2pm matinee show show New Years day.
It was extreamly cold on December 30th weather reports were calling for snow from Birmingham up through Tennessee Virginia, W.Va, and Ohio not a good day for travel. An experienced driver would have checked out the weather reports for December 30th and left as early as possible or suggested that Hank take a flight out of Montgomery to Charleston. None of this happened.
Hank was wearing blue pants a white shirt and tie and a navy blue over coat. He was not dressed warm enough for the freezing weather that lay ahead. At around 11:30 the pair of travelers left Hank's mother's boarding house in Montgomery to begin their trip, with the exception of time comsuming visits before getting started that could have made a big difference in the out come of the trip.
Hank wanted to go by some radio stations in Montgomery and visit some of his DJ buddies. Afterward he attended a convention at a hotel where he had a few drinks. Now he wanted to visit his personal doctor to get a shot of morphine for his back pain. When his doctor realized he had been drinking he refused to give him any morphine. Hank knew another doctor who did give him a shot of morphine.
By early afternoon the pair of travelers were headed to Birmingham. They arrived in late evening and spent the night due to bad weather. Early the next morning they drove north to Knoxville by the time they reached Chattanooga the highways were becoming covered with snow.
When they got to Knoxville it was after 10:30am snowing heavy and getting worse. They realized they would not get to Charleston in time for the New Years Eve show. Carr drove Hank to the Knoxville airport where he found a flight leaving for Charleston at 3:30 that afternoon. The flight returned to Knoxville some time after 6:pm due to bad weather. A.V. Bamford he promoter of the show was notified that Hank would not be able to make the New Years Eve show due the severe weather.
Hank was supposed to be a guest on Cas Walkers mid-day show at WNOX in Knoxville, but never showed up. Hank and Carr returned to Knoxville and checked into the Andrew Johnson Hotel. Hank had to be helped to his room by two porters. Two steaks were ordered for supper and brought to Hanks room. Hank ate a little of his steak in bed and went to sleep. He later fell from his bed to the floor, Dr. Cardwell was called to check on Hank. When the doctor arrived he gave Hank a sedative and two shots of morphine.
A.V. Bamford when advised Hank would not make the New Years eve show told Hank to be sure to be on time for the 2:pm matinee show on New Years Day in Canton, Ohio. Carr had the porters carry Hank from the hotel to the Cadillac waiting on the street. The porters said they heard Hank making wheezing and coughing sounds as they carried him to the automobile. They placed him laying down in the back seat and put his over coat over him. Charles Carr drove out of Knoxville at 11:45 p.m headed for Canton, Ohio.
The entire southeastern United States was covered with snow and ice with the temperature falling below freezing. Hank Williams lay in the back seat of a Cadillac convertible with light clothes. I n freezing weather a person can get hypothermia and without warm clothes you can die from it. Hank Williams wasn't wearing warm clothes. The back seat of his Cadillac was probably colder than an ice box. The weather would be at 0 or below through New Years night and most of New Years day. They had a good strong six hundred mile trip to Canton, Ohio over the most dangerous highway in the southeastern United States. Route 11 West going from Knoxville through Bean Station to Bristol is a narrow two lane road going into steep mountains and winding curves. Truckers avoid route 11 in bad weather. With snow covering the highway this was not the road to be on, but there they were and it would be Hank Williams' last ride.
Carr was stopped in Blaine, Tennessee by patrolman Swan Kitts for reckless driving. When patrolman Kitts asked about his passenger's condition, Carr told him it was Hank Williams and that he was in a hurry to get him to a New Years Day Show in Canton, Ohio. Kitts told Carr there is something about your passenger that doesn't look right. Carr told Kitts that Hank had been drinking and had been given a sedative for back pain. Charles Carr was given a ticket for reckless driving. At l:00 a.m. Carr drove on toward Canton. When Carr arrived in Bristol, he was very tired due to the fact, he had been awake for almost 24 hours. He picked up a relief driver in Bristol by the name of Donald Surface who drove to Bluefield while Carr rested. Carr paid Donald Surface in Bluefield and left him there. Carr got a cup of coffee in Bluefield and drove on toward Canton.
Early in the morning of New Years Day Carr stopped to check on Hank. Hank's hands were cold and Carr put his over coat across his chest. At around 5:30 a.m. Carr pulled into Burdette's Pure Station in Oak Hill, West Virginia. He went inside and asked the men who were working would they come out to his automobile and take a look at Hank. When the men couldn't awaken Hank, they told Carr there was a hospital just a short drive down the road. Carr drove to the emergency room and two orderlies took Hank inside. Hank Williams was pronounced dead in the Oak Hill hospital emergency by Dr. Diego Nunnari at 7:00 a.m. January 1st l953. The actual time of death has never been determined.
Hank was taken to the Tyree Funeral Home for an autopsy. The autopsy was done by Dr. Ivin Malinin a Russian intern who spoke little English. He found needle marks in Hank's arms bruises on his body and welt on his forward. He also discovered hemorrhages in his heart and his neck. The cause of death was contributed to acute right ventricular dilation. Alcohol was found in his blood, but no drugs were detected, probably because they weren't looked for. Many things were probably overlooked during Hank's examination. Even if Hank Williams had lived, it would have probably been to no avail,
In reality he died along time ago, because there is nothing in the state of the art of modern medical technology that can fix a BROKEN HEART. It was the last ride of the most famous country music entertainer who ever lived Hank Williams.
-Widmarc Clark
Rick Nelson
HE SHOULD HAVE KEPT ROCKIN
RICK NELSON Rick Nelson's first attemp at Rock n Roll was weak at best. He recorded Fats Domino's hit "I'm Walkin". The Be-Boppin-Teens of the Rockin 50's got a watered down version of Domino's smash hit. The recording was released on Verve Records run by Barney Kessel in Los Angles.
Ozzie Nelson Rick's dad set up the one record deal with Kessel. By the time "I'm Walkin", became a hit, Ozzie had already made a recording deal with Lou Chudd of Imperial Records also in Los Angeles.
Kessel made the most of his one record deal with "Ozzie" by hiring Merle Travis and Earl Palmer to play on "I'm Walkin" and "Teenagers Romance". Earl Palmer had played on the orginial "I'm Walkin" for Fats Domino. Palmer had just moved from New Orleans to LA. The recording of both songs took place in Los Angeles at Bunny Robyns "Masters Sound Studio". The same Studio that Rock Star "Gene Summers" recorded "School Of Rock n Roll" and "Straight Skirt" which became a nationwide smash hit for Gene.
Robyn was a motion picture sound mixer and had recorded big bands for the Army Air Force in WW2. His studio was used by almost every producer of Rhythm & Blues in LA. Johnny Otis, Lieber and Stoller included.
The "Masters Sound" as the studio was referred to was "The Sound" everyone in Rock 'n' Roll wanted. Ozzie Nelson kept up with things like that and planned to give Rick every edge he could find. Ozzie Nelson believed in perfection if a project was worth doing it was worth doing right. No matter what Ozzie Nelson set out to do he planned to be the best at what he was doing. As a former band leader Ozzie had heard a lot of singers he knew Rick had a weak voice and his first try at rock n roll would be no match to "Elvis" or "Pat Boone" but he had the right Studio and that was a step in the right direction. And later when Rick moved to Imperial Ozzie would make sure Rick had a good producer. Ozzie hired Jimmy Haskell the best Rick would ever work with "Jimmy Haskell would produce many "Hits" for Rick Nelson.
In a very short time Rick Nelson would rock at the top of the charts with the biggest names in Rock n Roll.When Rick signed with Imperial the law suits begin to fly. Ozzie sued Verve for $34.000.00 in back royalties, Verve sued Ozzie $2.2 million claiming Rick never signed with Verve, and for a time both parties battled it out in court. The law suits went for several years until the courts ordered Verve to pay around $40.000.00 to Rick in back royalties. When all was said and done "I'm Walkin", sold five hundred thousand copies. Rick Nelson was on his way to becoming a Teen Idol.
Rick was just around the corner from having the best Rockabilly band in the USA. A very young guitarist named James Burton was laying down some famous tracks for a young blues artist that would later become an American icon in Rock music named Dale Hawkins. Burton working with his buddy Dale Hawkins in Shreveport and Bossier City doing gigs at nite spots when they were fifteen. They were so young in fact they they rode bicycles to where they were preforming. Dale and James made rock n roll history when they recorded Suzie-Q at at radio station KWKH in Shreveport. James Burton played the most famous opening riff of any song ever recorded in rock 'n' roll when he started out playing dat dat da dah dat a dah dah do on his vintage 50's Fender Telecaster.
They made real history that day in 1956 when they mixed some foot stomping belly crawling, whiskey and gin blues with country music. That's the kind of stuff that becomes legendary. And it still stands to this day as the best blues country swamp boogie recording ever made. Suzie-Q went on to become a monster hit for Dale Hawkins. James left Dale to work for Bob Luman. Luman was a regular on the Louisiana Hayride. Luman without a doubt had the best band on the Hayride. James Burton on lead guitar, James Kirkland on stand up bass, and Bruce White on drums. Luman got a contract with Imperial records and left the Hayride for the west coast.
Rick Nelson heard Bob Luman and the band jammin one day and offers the band more money to come to work for him. Of course Ozzie had final approval, however, when he heard Rick sing with them he knew Rick had stumbled into one hell of a good rock band.
Not just a good band Rick Nelson had the best Rockabilly band in America. Johnny and Dorsey Burnette had written a song called "Believe What You Say" when they went into the studio to record the songs James Burton played blistering solo's on both sides. Burton played guitar riffs at the break that get right to the core of what rockabilly is all about. Burton bends pushes and pulls the strings till they scream with the best rock a billy rcording Rick Nelson ever made. The "B" side was "My Buckets Got A Hole In It", probably the best rockabilly vocal of all Rick's recordings. With that recording Rick Nelson Now rocked with the best of the Southern rockabillys. And, was about to become the best rockabilly star in America.
Rick made other great rock a billy records" Hello Mary Lou". "Travelin' Man" "Poor Little Fool" "Milk Cow Blues" From 1957 Till 1962 he placed twenty six singles on the charts. "Poor Little Fool" and "Travelin' Man" went to No. 1.
He signed with Decca in 1963 for a million dollars and moved away from rock a billy music. By the middle 60's rock a billy was gone from the turn tables and America had a new brand of music.The times were changing. Rick tried country music but his heart wasen't in it. In the 80's out of frustration and desperation Rick came back to his roots. Doing rockabilly shows at State and Country Fairs. Nelson was on some what of a come back and seemed to be happy singing the rockabilly songs that made him famous.
On new years eve 1985 Rick Nelson was killed in an airplane crash in Dekalb, Texas. We'll always remember Ricky Nelson the little tow headed kid who grew up and made some great rockabilly records.
-Widmarc Clark
Don Gibson
Writing Songs That Became Legends
We lost another Great Talent on Nov 17th when 75 year old Don Gibson closed his song book and went home. I don't imagine Don considered himself a poet? But he was. His poems put to music were as good as Robert Frost. Henry W Longfellow or Walt Whitman.
Don Gibson was born in Shelby, N.C. on April 3rd 1928. He said he loved music from an early age and was influnced by Red Foley and Tennessee Ernie Ford. He formed a band in high school called the " Son's Of The Soil".
Now that's about as ground level as it gets. It seems to me if your band has a connection to the earth you might have an idea or two about what makes the world go around? And that could be a big help writing down to earth songs.
Don worked night clubs in and around Knoxville and at some point Wesley Rose caught one of Don's performance's and signed him to a writing contract. Rose brought Don to Chet Atkins who signed him to RCA Records.
As the world knows now Don Gibson had great writing ability and had wrttten "OH Lonesone Me". Don's writing ability was like no other artist. He wrote with a feeling that touch's people down deep inside making a person say to themselves, why didn't I think of that?
Don Gibson was always two days and three miles ahead of us and that included every song writer in Nashville. Don put poems to music so the rest of us " Folks " could get in touch with our feelings. He wrote we identified with the songs meaning. The song "Legend in my time" has a line that goes like this. If they gave gold statuettes for tears and regrets I'd be a Legend in my time. A statue is a three dimensional work of art as a representation of that person.
When Don wrote" Legend in my time " he wrote it in three dimension's putting the message across knowing he and every one of us had, had some regrets in our life, so much so we would all be "Famous" if for no other reason than for the the dump and stupid things we have done.
It's been said he wrote "Oh Lonesome Me" and I can't stop loving you" in Nashville and I've heard he wrote them Knoxville in a trailer park when he worked at WNOX. No matter where he wrote the songs no other country artist has written two hit songs in one day.
Many of Don Gibson's songs have been recorded by other artists. Faron Young and Patsy Cline both had hits on "Sweet Dreams". When Don recorded "Oh Lonesome Me". in 1957 it went to No. 1 and was the beginning of "The Nashville Sound".
He had other hits: "Blue Blue Day", "Sea Of Heartbreak", "Lonesome No. 1" and others. With Fame came problems, alcohol and drugs Don Gibson had his share with both.
With a sucessful second marrage he got back on track and turned his personal life into as much success as his writing.
In his Lifetime Don Gibson charted 82 songs, three went to No. 1: "Oh Lonesome Me", Blue Blue Day" and "Woman ( Sensuous Woman)". He was inducted into the Nashville song Writers Hall Of Fame in 1973 and inducted into The Country Music Hall Of Fame in 2001.
Over One Hundred and Fifty artist have recorded "I Can't Stop Loving You". including "Elvis" and Ray Charles. The most Famous being Ray Charles – the song became a smash hit for Charles. Both Ray Charles and Don Gibson received a Gold Record for "I Can't Stop Loving You". We will miss the talents of Don Gibson and the Heavens will be just a little dimmer because another Star is gone.
-Widmarc Clark
The Ghost of the
Blue House Blues
Not long ago I got a call from a friend of mine I hadn't heard from in over thirty years. He lives in Opp, Ala, a small town in the southeastern part of the state, out in the middle of nowhere. To get there you must travel two lane roads that can get very confusing at night. If you've ever traveled from Tupelo to Memphis on route 78 or Highway 14 in Arkansas that usually will get you to Little Rock, then you know the kind of road I was on.
Dale Hawkins and I were traveling out of Jonesboro to Little Rock one night and ended up on Highway 14. The road runs between state road 63 and interstate 67 we spent the better part of a night in fog confusion trying to get to the end of that highway. Sometimes back roads can lead to some strange places. Such was the night trip to Opp on Highway 331 out of De Funiak Springs, Fla.
My ol' friend at one time was the front man for Hank Williams Jr., now somewhat retired and playing off and on when he feels like it in a nite club east of Opp. When my friend fronted the show for Hank Jr., the Original Drifting Cowboys were working with him (Sammy Pruitt, Jerry Rivers and Don Helms). So it was a while back since I last saw him. I packed a bag and headed out. When I got to De Funiak Springs the sun was setting and it looked like a great night to travel. I pointed by Chevy pick up north on 331. I had plenty of time to get there no need to be in a hurry.
The stars were out in all their splender as I rode through a fall night in the peaceful Fla panhandle.I decieded to stop off at The Hop In And Hop Out convience store for a pit stop and a cold one. I asked the man running the store how far it was to Opp? He said about 55 miles up the road just stay on 331 the road is a little rough when you cross the state line, the (Ala) road people don't figure the road leading down to (Fla) is worth fixing so it an't been worked on in quite some time.
I slipped into the front seat enjoying my ice cold brew and headed into the night. At some point one brew became three and I found my self listening to CD's everything from ( Thats All Right Mama ) to ( Rocky Top ) and ( Alan Jackson's ) In The Real World. I looked at the fuel gauge and realized I was not going to make it to the end of the race without a fuel stop. Lo and behold there was another Hop In And Hop Out right on schedule.
I asked the woman behind counter how far it was to Opp? She said about fifteen miles east of here. Where is here I asked? This is Sanford, Ala, your fifteen miles west of Opp ands it's about fifteen miles west to Andalusia. What road is this? Highway 84, how can that be I was north on 331 out of Fla to Opp? Well you went through Opp made a left on 84 and here you are. I don't believe it, I just don't believe it. Well she said, truckers get lost out here all the time, looking for Petrey Wholesale. Where is that I asked? About 40 miles north of here. Have you ever heard of the Road House Blues Club? No never heard of it. It's above Opp, well your west of Opp and I ain't never heard of it and I go jukin' in Opp all the time. Look go down the road about 12 miles and you'll see the Blue House Blues it's on the right side of the road just pass the Hop In And Hop Out.Wonder how I missed it getting to here? Well you did and you better get on down there before they move it and you miss it again.
I drove east on 84 toward Opp and wondered what had happened to those beautiful stars that were sparkling down at me not an hour before, the weather was now cold and cloudy. The woman had asked me to play LC-21 on the juke box she said it was her favorite song and gave me a dollar to play it four times. Well there it was The Blue House Blues. I eased on in and sat down at the bar and ordered another cool one. Bartender you ever heard of the Road House Blues Club? I got a buddy who play's there. You do? I sure do, where is it? There ain't no such place as that around here or around there or any place else around here or there, if there was I'd know about it cause I played music all my life from here to Mobile to Montgomery and back. There was talk some singer was gonna build one but never did. There just ain't no Nite Club by that name. Really? Really, no such place I tell you.
I walked over to the juke box and dropped a coin in the slot and had my finger on LC-21 beginning to push it down when I felt a hand on my shoulder and a voice I had heard somewhere before say hold on Hoss better think that selection over? Why? It's a famous song by Hank … Hold on just a cotton pickin' minute ain't you him ? I was face to face with the most Famous Country music singer in the world, your him, your him, your Hank ….. Will, Will, ums, tall, slinder, kinda tallow though, kinda pale, white suit with all them notes all over it. And that white hat. Now look son I ain't who you think I am? I'm not him. Yes you are, Yes you are. Just hold your horse's "Pasqually" your about a mile off target on the wrong bomb run, flying an out of date airplane in a war that ain't been fought yet. But if you press your finger down on that selection all Hell's about to Pop lose.Look around what do you see? I see all kinds of stuff. Well name some of it? Go ahead start naming stuff. Look at the cars in the parking lot. What year are they? Early fifties cars. How about the songs on the juke box? Well their fifties songs. Who's that baseball team on the wall that won the National League pennant last year. It's the 1950's Philadelphia Phillies. This is the 50's in here, this whole place is slap dab in the 50's forever. What year did you walk in here from? 2000. You plan to stay here forever with us ? Let me tell you something, this place runs from 1950 to 1959, you can hear Elvis, Conway, Buddy, Big Bopper, Ritchie, Eddie, Gene, and there will be others coming soon. Chet, Carl, Roy and a whole bunch of people from the Hayride and the opry and yes even the Rock n Roll Hall of Fame has one or two here.
But you are before your time. We need you to tell the story about how great Rockabilly music was in the 50's. Tell them to enjoy it now and keep it alive for generations to come, because when it dies it's gone forever. I don't want to go back this is what I always wanted, look an't that Gene setting up to play? Yep that's him and Cliff, well I don't wanna miss this show I've wanted to hear him play live and in person since I was a teenager. Look, ain't that the Famous Sam Phillips. yep thats, him look he's setting the studio up to do some recording I don't want to miss out on this. Well my friend some things are not always as you see them this is something you might call a rerun, it's not in real time even though it looks like it is. It's true everything recorded in the 50's is here but it's not for you yet, your to early if you stay now everything you see and hear will be out of meter and out of tune and not in real time because this is not your time yet.Go back and tell other believers that Rock a billy must be played and carefully persereved for as long as there are people who believe in it, then we will have a place for you here with us when it's your time.
I heard a thumping on my window and a voice saying hey buddy you Ok ? It was a Ala State Trooper, you Ok ? I'm alright, where are you headed? I'm going to Opp how far is it? Your about seventy miles east of Opp on route 231 north of Dothan. Let me buy you a cup of coffee buddy you look like you need some. Over a good cup of coffee in a Waffle House in Dothan I asked the Trooper if he ever heard of the Road House Blues Club in Opp ? You mean the Blue House Blues, they tore that club down in 1959. What about the Road House Blues Club? Well I heard my dad talking about a singer that was gonna build a club by that name in the 50's down on 331 heading into Fla but never did because he thought people would get his club mixed up with the Blue House Blues club. But you ain't the first one who thought he went there. So many people traveling north on 331 have got them two places mixed up they call it the Ghost Of The Blue house Blues Club.
You know there was a woman who worked at a Hop In And Hop Out in Sanford, Ala who used to tell stories about folks getting lost looking for the Road House Blues Club in Opp ole crazy Gladys Gray she died about twelve years ago. Have a nice trip home young fellow.
I still haven't seen my buddy in Opp, I guess I'll wait till he moves to another town. Come to think about it this crazy Ghost Tale always sounds kinda Spooky when it gets close to Halloween, and don't play LC-21 if it's the combination to any song on any Juke Box. You might end up on a two lane road heading straight for the Ghost Of The Blue House Blues.
Big Train To Memphis
The Rockabilly Hall of Fame Benefit Show
Posted October 15, 2003. The big train rolled into Memphis October 10th, 2003 with a shower of Rock-a-billy legends that would equal the stable of artists Sam Phillips had on his Sun roster in the 50's. The Rock-a-billy Hall of Fame picked Memphis because that's where Elvis did his first live show at the Overton Park Shell. The Overton Park Shell had been closed down for twenty years when the Rock-a-billy Hall of Fame discovered that it had just reopened. It was decided that Memphis would be the perfect place for the benefit show. Also the Rock-a-billy Hall of Fame had plans to induct Rick Nelson. They had been looking for a suitable location for the induction ceremony. Since Rick Nelson had a special fondness for Memphis and it's Rock-a-billy roots Memphis was the perfect place.
Rick Nelson's twins Gunner and Matthew were contacted. They agreed to perform on the show and except the induction plaque for their dad. The show was on. Rock-a-billy legend Glen Glen was contacted in hollywood. Glen who had been friends with Rick Nelson and Elvis was asked to present Rick Nelson's induction into the Rock-a-billy Hall of Fame to the Nelson twins.
At 2:00 p.m. on October the 10th, Cash O'Reilly and the Down Right Daddies' were introduced to the audience by MC Burl Boykin. They put on a great show and were real crowd pleasers. Sun recording artist and Rock-a-billy legend Charlie Feathers son and daughter Bubba and Wanda Feathers came on next and sang many of their dad's hits. It was great to see Bubba and Wanda keeping the Feathers family tradition alive. What a show they put on.
Next on stage from Toledo, Ohio was the fabulous Joe "The Shaker" doing his fifties hit "Chicken Shack." Joe was backed up by Butch Wax, Larry Manuel, and the Flat Tops. "The Shaker" is an excellent performer that keeps you rockin. Bobby Joe Swilley and the Country Line Band, with Andy Anderson, guitarist Bucky Barrett along with Alton Lot, Don Pittman, Wray Henson, and Richard Thames got their harmony together on the Fiesta's 1959 hit song "So Fine" and other group hits of the 50's. What a performance the audience loved it.
The fans came to see and hear Rock-a-billy at it's best and they got it. The Rock-a-billy Country band came on next with Barbara Pittman, Kim Curtis, Jerry Lee "Smoochie" Smith, J.T. Morgan, Rayburn Anthony, and drummer W.S. Holland who worked with Carl Perkins and Johnny Cash. They rocked everyone with a show no amount of money could buy. Barbara Pittman the first woman to record for Sun Records put on a great show. Roman Self came out next singing some the songs that made his dad Rock-a-billy legend Ronnie Self famous. Roman sang his dad's big hit "Be Bopa Lena." He was backed up by Bob Timmers on lead guitar and Bobby Joe Swilly on drums. Roman really puts on a good show.
Glen Glen and his band came out next what a wild bunch this is they put on a good rockin show. Alan Clark who knows every Rock-a-billy legend in the world, played lead guitar harmonized with Glen Glen and Don Wilson on their hit songs. Sheree Homer sang an old Carl Perkins tune "Matchbox." Johnny Powers from Detroit came on next singing his hit "Long Blonde Hair" "looking cool" in his leather outfit and shades. He is the only Rock-a-billy legend to record for both Sun and Motown Records. Glen Glen ended their part of the show singing his big hit "Everybody's Movin."
Everybody was having a good rockin time. Rock-a-billy legend Gene Summers from Dallas Texas got the fans rockin with his big hit on Jan Records "Straight Skirt." If you've never seen Gene Summer perform live you are missing a great show. Gene is a dynamic performer who keeps the audience rockin in there seats. Gene left the stage and came out among the audience and sang to them, they loved it. He ended his show with his biggest hit "Big Blue Diamond" giving the fans what they came for good ole rock-a-billy.
Gunner and Matthew Nelson closed the show with a sizzling performance with their band the Dempseys that had everyone jumping and shouting. Flashes were going off everywhere as they sang some of there dad Rick Nelson's hits. What a way to end a Rock-a-billy show.
HANK WILLIAMS
Rock-A-Billy In My Soul
September 25, 2003 Many stories have been written about Hank Williams, and being from Alabama and not far from where he was born, Hank Williams is a person I have heard stories about all my life. He was born in Olive Hill on Sept, 17 1923, to Lilly and Elonzo Williams living in a small farm and logging community in southeastern alabama about sixty miles below Montgomery.
Southeastern Alabama hasen't changed much in the last fifty years since Hank wiiliams played in Honky Tonks and various other places trying to make a buck or two and carve out a living in the rual south that is as far away and different from New York, Chicago and los Angeles as humanlly possible. When Hank begin his full time music career he played in Troy, Ozark, Dothan, Enterprise, Geneva, Opp, Andalusia, Brewton, Bonifay, DeFuniak Springs, Crestview, Pensacola, Fla, and Mobile, very small towns and very little money.
Such was the south in the early 1940's. After all this time people in their late 70's and early 80's still have stories to tell about when Hank Williams played in their town and they are proud to talk about it. Not many Famous people have left such a Legacy.
Hank Williams was an original member of the Lousiana Hayride from it's inception in 1948. Hank had made several records when he became a member of the Hayride and his name was getting around. The story goes that Hank's mother bought him a second hand guitar when he was twelve and he learned to play it with the help of a Black Man named Tee-Tot. Very little exist about Tee-Tot other than he taught Hank some songs and chords on his guitar.
When he was sixteen he got a job playing and singing on Radio Station WSFA in Montgomery. However, due to a drinking problem Hank was let go. He dropped out of school in 1942 at seventeen and tried to join the Navy, but couldn't pass the physical due to a abnormality in his spine. He then went to the West Coast to try his luck working in a ship yard. When that adventure didn't work out he returned to Alabama, and begin his career as a full time musician.
He was playing in the Troy and Ozark, Alabama area when his path crossed that of one Audry Mae Sheppard. He fell madly in love with her and they were married in Andalusia, Alabama, in 1944.
Some of the records Hank had already made by 1948 were "On The Banks Of The Old Ponchartrain" , "Pan American" and "When God Comes To Gather His Jewels". Copies were sent to The Hayride hoping someone there would hear them and like them and that he would become a Hayride member. Like them they did and he was asked to join the Hayride in 1948 as an original member.
The Louisiana Hayride was broadcast over radio station KWKH in Shreveport that had a booming 50,000 watts of power that could be heard over a wide and vast area covering well over seven states.
After a short time on the Hayride Hank got a syrup company to sponser him for a fifteen minute show over KWKH. It paid good money and gave Hank the extra exposure he needed and Hank was on his way to becoming a Big Star. At the same time he struck a deal with Acuff-Rose for publication of his future songs – an extremely good move that would make Hank Williams and his family millions and millions of dollars in future Royalties.
Hank had a song that he had recorded on M-G-M but was not yet releaced called "Love Sick Blues". He decided that song would be the first one he would sing on the Hayride. When he got on stage and stepped up to the microphone and begin to sing the song the audience went crazy, Abso-100%-Lutely Insane over it. They wanted to hear it over and over again, encore after encore they wouldn't let him leave the stage. All Hank had to do was just stand there and wiggle his leg a little and the yelling started all over again.
Hank Williams had the wiggle and shake and it drove the women crazy. No one had seen anything like before he held the whole auditorium spell bound. Sound like any one else you have heard of ??? THIS WAS 1948. Hank Williams had the crowd in the plam of his hand.
After a few weeks the word got around about this boy from Alabama that was tearing up the Hayride and every Saturday night the place was sold out. Tickets had to be bought in advance and hundreds were turned away knowing they needed a ticket before they got there. On Saturday night, when it came time for Hank to perform the auidence would start to scream and yell, when he went into "Love Sick Blues" the house would come down encore after encore no one could get enough of Hank Williams who was a young 24 years old. Talk about (Setting The Woods On Fire) he was burning up 50,000 watts of power and then some.
Hank Williams didn't write "Love Sick Blues" however it became a monster of a hit and stayed on the charts for almost ten months. M-G-M quickly released "Lost Highway", "You May Never Be Alone", "Honky Tonk Blues", "Mind Your Own Business", "My Son Calls Another Man Daddy", and "Your Gonna Change Or I'm Gonna Leave". All became big, big, hits. Very shortly after those Hits Cooled, M-G-M released "I Just Told Mama Good By" and "Wedding Bells" which became hits as well. Hank Williams was riding high fame and fortune was all his to have.
The one lasting love in Hank Williams life happened on Thursday, May 26th 1949 when Randall Hank Williams was born in Bossier City. He would be known as Hank jr. Nothing for the rest of Hank Williams life would give him more joy than Hank Williams Jr, who he loved to call "Bocephus".
The star of Hank Williams was shining brighter and brighter and his rise to stardom was most likely the fastest of any entertainer who ever lived. Hank Williams was now bigger than the Louisiana Hayride could handle. The Grand Old Opry in Nashville was calling. And Hank Williams was about to embark on a metor ride that would take him to heights that no one had ever been before. It would be a lonely ride that would take him to the top of a mountain that no human could get down from, and as he looked around from the view at the top of the world one might wonder was he Happy?? He was about to spread his wings for the flight of his life into a hurricane of fame that would end his life in less than three years.
Hank Williams made his first appearence on the Grand Old Opry on June 11th 1949. Before his first appearence he could walk the streets of Nashville unoticed, after his June 11th debut he could go no where in Nashville without people stopping to shake his hand and get an autograph. If he went into a resturant he got mobbed by his fans once they saw him, everyone wanted to be able say Guess Who Imet today? Hank Williams the guy who made "Love Sick Blues".
It was a packed Ryman Auditorium June 11, 1949, three thousand five hundred and seventy five to be exact on a hot sticky night setting on bench's that summer, waiting for Hank williams to make his first appearance on The Grand Old Opry, and to witness Rock-a-billy's first Super Star. And you thought Elvis was the First? Think again? If you think Elvis was the first to knock women out in mass numbers? Dial that number again? And if you really think Elvis was the first to shake a leg on stage and make women scream?? Better dail 911 for help. Ole Hank did it in 1949 like it had never been done before, at least not at The Ryman Auditorium.
Hank Williams made 'em scream and yell more more more and he had an exception the (guys liked him also), they bought as many of his records as did the women. No one has ever had such an Impact as did Hank Williams on June 11, 1949 at the Grand Old Opry. He got seven encores, a record that was never broken, not at The Ryman Auditorium. that record stills stands.
He had it all, he was tall dark and handsome with a beautiful smile that drove women crazy. He wrote and recorded great records "I'm So Lonesome I Could Cry", "Cold Cold Heart", "Hey Good Looking", all this happened in 1950 when Hank was 27. From Sept of 1949 to april of 1950 Hank William's earned over four hundred thousand dollars. Thats equal to over four million dollars today.
By 1951 Hank William's records were selling by the millions and "Cold Cold Heart" was heading for No. 1 on the Charts. When he died at 29 on New Years day 1953, "Jambalaya" was headed for No. 1 Other hits would follow: "Your Cheatin Heart" and "Kawliga" which became a smash hit was written at Kawliga, a man made beach about fifteen miles above Tallassee, Alabama, located on beautiful Lake Martin. The last time I was there, Kawliga the ole wooden Indian was still standing, at little worse for ware, but still there.
I took a picture of him for ole times sake remembering those days when myself some of my friends used to swim there. I had a friend named (Joyce Durrough) who would keep saying I just love to hear him sing (House Of Gold). So many years ago it was.
Other Hits were "Take These Chains From My Heart" and "Mansion On The Hill". Hank Williams is most likely the best male country singer that ever lived and the fact that he's from Alabama would make him a friend of mine if for no other reason. What I can say for sure is this Hank Williams was (Rock-a-billy), and the first (Rock-a-billy Super star.) "Move It On Over," pure Rock-a-billy – it's got that jumped up beat to it.
Many Rock-a-billy artist covered his songs, Gene Vincent did "I Can't Help It", Jerry Lee Lewis did "You Cheatin Heart" plus many more of Hank's songs. Rick Nelson did "My Buckets Got A Hole In It" which was on the flip side of "Believe What You Say".
Hank paved the road to Rock-n-Roll with "Love Sick Blues", which was most likely the first Rock-a-billy song that went to No. 1 nationwide. Sanford Clarks "The Fool" reminds one of "Love Sick Blues" which is a very good recording. Someone once said (Nothing Is New) follow the footsteps back to what you believe is the (Original) and there you'll find someone has already been there and done what you thought had never been done. Elvis was not the first Rock-a-billy artist. Hank Williams got there first. Hank Williams' creative work took less than five years. Yet today fifty years after his passing, his songs are still being recorded by someone in the entertainment business.
Hank Williams was and is a country music legend, but his greatness goes far beyond what we call GREAT he crossed over to blues and jazz and pop music. He had Rock-a-billy in his Soul. Take a walk some clear cool summer night to your favorite lake, river, stream, or pond sit down quietly by the water and look up at the stars and let the heavens surround you and if you listen, really listen, you'll hear ole Hank singing "Love Sick Blues", Oh Yeah, the beautiful sound of "Rock-a-billy Music."
JOHNNY CASH – "WALK SOFTLY
CARRY A BIG GUITAR"
August 28, 2003 Johnny Cash came from a poor family in Arkansas but he made the most of what he had that didn't cost much and that was "Music". He learned to play the guitar wrote songs worked his way through high school and in an effort to improve his life joined the Air Force, did four years in Germany, and was Honorably discharged in 1954.
While he was in Germany he performed on base and wrote some of the songs that would later make him one of the World's best known SUPER STARS "Folsom Prison Blues" and "Hey Porter".
He settled in Memphis in 1954 and had various jobs. He played at different clubs in Memphis and West Arkansas. His goal was a career in music and he was determined to get there. At the same time he got married and begin to have a family. He met Luther Perkins and Marshall Grant they formed a band Johnny Cash and The Tennessee Two. They worked long hours at getting their performance to the point of perfection and got a job playing at a local radio station in Memphis.
They went to Sun records to audition for Sam Phillips, Phillips liked what he heard and signed Johnny to a contract. His first release was "Cry! Cry! Cry!" backed with "Hey Porter". Later hits were "I Walk The Line", "Ballard of A Teenage Queen", "I guess Things Happen That Way".
His songs were not only Country Hits they crossed over to become Pop Hits as well. By 1958 Johnny Cash had been invited to perform on The Grand Ole Opry and was the rising Star of Country Music, and went to Hollywood to try his Luck in the movie industry.
He returned to Memphis when the movie career didn't move as fast as his record sales. On his return to Memphis he hired W.S. Holland as his drummer and began to work even harder on his recording career. His deep rich Baritone voice his rhythm guitar and a straight forward approach to a song with a smooth schuffling beat was a combination that would last his entire career make him Millions and catapult him to Mega Star status.
Sam Phillips vision that gave Elvis his breakthrough to Stardom was very shorted sighted in his view of Johnny Cash, he let him quietly slip away in 1958 to Columbia Records with no compension. Johnny's contract had expired and Nashville was calling.
What Sam Phillips could have done with the future career of Johnny Cash we will never know. Sam never had much to say about the event, one would imagine that the failure to check on a Contract Experation cost him Millions. Johnny's first release on Columbia was "Don't Take Your Guns To Town". Other hits followed "Ring Of Fire", "Understand Your Man" and many more. In 1968 he recorded a live album from Folsom Prison "Folsom Prison Blues" which became a #1 Country Hit and #2 Hit on the Pop charts.
In the early 60's he was having trouble with addiction to pills and his first marrage came to an end. It looked like the career of Johnny Cash might come to an early end. He was down to skin and bones with no desire to continue. With alchol and pills gripping his life he spent a night in a cave and when he came out the next morning he said he'd a Spiritual Experence and things in his life would be different.
In 1969 he recorded "A Boy Named Sue" at San Quentin Prison that cut, from the album recorded at San Quintin became a #1 Country hit a #2 Pop hit. "A Boy Named Sue" became his biggest selling single and was the CMA single of the year, he was the CMA Entertainer of the year. He married June Carter in 1968 and she became a stable influence in his life and stayed by his side until her death.
Johnny Cash has given America and the World his very best. He has set an example for all of us to follow and for generations to come. (He Came He Saw He Conquered). He did it with Heartache, Dissapointment and all of life's up's and downs. He made Millions but he gave back millions. He had all money could buy but he remained the simple Arkansas citizen that brought him Fame. He never got above his rasing and he was kind and gentle to all people he met. Johnny Cash was an approachable person he never shunned anyone. A was a big man towering over most of us but he could look down at us and say with sinceritely "Hello I'm Johnny Cash."
It goes without saying there will never be another Johnny Cash, he came from those Glamorus 50's when life in America was simple and exciting. He was there when country music and blues crossed over and became Rock-a-billy but no one knew that's what it was all they knew was it sounded good and it was fun to play.
Johnny came along when everything had not been explored it was a time of musical magic and a time to do things no one had done before and Johnny Cash set out to make the most out of this new music. He helped pioneer the sound that 40 years later would be called Rock-a-billy but in 1952-53 and 54 it was music that was new and Johnny Cash played it, played it again wrote words that fit the sound and then … then stepped up to the microphone and said "Hey Get Rhythm When You Get The Blues" and the world had Rock-a-billy.
Today's music an't bad but it ain't nothing like we had back in the good ole day of Rock-a-billy rock-n-roll and John R. Cash sang some of it's very best. Another LEGEND GONE. Life in America will not be the same without Johnny Cash, a light that help guide us into this new generation of a mixed up Nation has gone out. What he stood for will be missed, what he accomplished will not accomplished again. In all of the messed up ideas and goofy plans to make America look stupid Johnny Cash stood tall like the Giant he was and could say "Don't Worry About The Mule Going Blind", "America," "Hang On To The Plow".
Goodby Johnny, we'll miss you, Thanks For The Memories, you were a "True American Hero" – A Man Who Walked Softly and And Carried The Big Guitar.
JAMES BURTON
A Life Time Jam Session
August 28, 2003
James Burton and Widmarc Clark at the Ponderosa Stomp II in New Orleans
discussing James'life in the entertainment business.
Born in Dubberly, LA, James Burton grew up in Shreveport. James taught himself to play guitar. He never took any lessons, picking up the guitar sounds he heard on the radio and from juke boxes. James had a good ear for music he could remember the sounds he had heard and then be able to pick out those same sounds on his guitar. Then would compose and arrange his own composition of what he had heard to his style of guitar playing.
It didn't take long before James had developed his own distinctive style. Some people are blessed from birth with a special ability. The key is to find out what that special ability is and develope it at an early age. James Burton was able to do that.
One of James' favorite spots on the radio was the Louisiana Hayride and lucky for him the Hayride was right there in Shreveport, just a hop skip and a jump and James had a front row seat hearing and seeing all his favorite country music stars.
By the time he was fifteen he was the youngest staff musician on the Hayride. He obtained experence backing all the Hayride regulars. He also had some buddies who were staff musicians, drummer D.J. Fontana and stand up bass player James Kirkland. James also had another buddy named Dale Hawkins and they played gigs at the "It'll Do Club".
James had use of a car but seldom had the needed cash to put gas in it. So the main mode of transportation to a gig was pedal power. From time to time James was a session guitarist at Ram Studios in Shreveport, owned by Mira Smith. Bass guitarist Joe Osborn and piano player Leon Post would at times be on the same session with James. This was in 1956.
In 1957 James would play the opening riff on Dale Hawkins famous recording of "Susie-Q." Joe Osborn played electric bass. Both Joe Osborn and Leon Post played on Dale Hawkins' recording of La-Do-Da-Da, Joe played lead guitar and Leon Post played Piano.
Leon Post was also a staff musician on the Louisiana Hayride. When Elvis came to the Hayride he really got things going in high gear and he kicked up a lot of fuss afterward everywhere he went. When Elvis worked the Hayride the whole place went nuts and when he left nothing was ever the same.
Horace Logan, the manager of the Hayride, was looking for a replacement for Elvis of course he knew he'd never find one but he had to look. And he didn't have to look far for a 18 year old good looking Bob Luman from Kilgore Texas was there to perform with a group. When someone failed to show for a performance he was asked do you know "Thats All right Mama"?? Bob replied uh yea I know it, well get out there and do it. Bob did a great performance and was hired as a regular, until he signed with Imperial records several months later.
While he worked the Hayride he hired James Burton, James Kirkland and Butch White and formed his own band. When Bob Luman signed with Imperial records he and Horace Logan, James Burton, James Kirkland, and Butch White left for Hollywood.
Bob recorded "Red Cadallic and Black Mustache" with James Burton on lead, along with the rest of the band now called The Shadows.
Horace Logan, who had been the Hayride's manager, went to work for Fabor records in Hollywood. They all had parts in the movie "Carnival Rock" starring Natlie Wood and William Conrad.
Bob Luman sang "Red Cadallic and Black Mustache" backed up by The Shadows. Bob Luman and his band were jamming at Imperial when Rick Nelson happened to be in the building he also recorded for Imperial he heard the jam session and was highly impressed by this combo backing Bob Luman. They were playing just the kind of Rock-a-billy that Nelson loved.
Rick had a talk with James Burton and hired the band away from Bob Luman. It would be a relationship that would last from 1958 to 1966. At the time Joe Maphis was playing lead guitar but James backed him up on "Stood Up" and "Waitin In School". The relationship could have ended after the recording session. Christmas was just around the corner and Ozzie Nelson wanted the band to work through the Holidays. But James and the band were home sick and to spend Christmas on the west coast was asking to much. They packed up their stuff and headed for Shreveport.
They were gone for over a month when James got a call from Rick Nelson, asking James if he was interested in playing lead guitar?? Joe Maphis was going back to his country music gig on Town Hall Party. The Boys packed up their gear and headed back to Hollywood. The first recording after returning was "Believe What You Say" and "My Bucket's Got A Hole In It".
James replaced all the strings on his guitar with Banjo strings. The sounds that came out of that recording session were beyond belief. The light gauge Banjo strings gave James Burton the ability to bend notes making his guitar sound like a pedal steel trying to gather it's way out of his amp at speeds faster than a machine gun.
It was an incrediable recording session that gave Rick Nelson a top 10 record, and sealed him into history as a top Rock-a-billy artist, and it would be "Rock-a-billy" that his fans would want to hear for the rest of his life. And it was the very thing that Rick Nelson never understood. This mistake in his future career in music would cost him untold millions and evuentually lead to his demise as a rock star.
Samuel Clements once said always write about what you know. In Rick Nelson's case – stay with what you do best – which for him was Rock-a-billy.
When James Kirkland went to work for Jim Reeves, Rick Nelson robbed poor ole Bob Luman again, taking from him Joe Osborn the best electric bass player in America. The band was now made up of James Burton, Joe Osborn, Ritchie Frost on drums and Gene Garf on piano, still the best Rock-a-billy band in the USA.
By 1964 and hundreds of recordings at Imperial, the glory days were over. Rick Nelson had lost his direction and his career was going no where. "Hello Mary Luo" had long since faded and the Decca days were at an end as management saw nothing to do but let Nelson out of his contract. as his records were bland and without feeling.
In 1966 James decieded it was time to move on. And he began to do session work as his name as a guitarist would get him work anywhere and everyone wanted him to play guitar on their next recording. Just the name James Burton meant success if he was on your next recording. James spent the next few years doing session work for Gram Parsons, Dolly Parton. Johnny Cash, Sammy Davis jr, Dean Martin, Merle Haggard and countless others.
He went to work for Elvis in 1969 and stayed with him till his death in 1977. He went to work for John Denver, did more session work. And went on the road with Jerry Lee Lewis.
James has three homes, one in Nashville, one in Burbank, CA and one in Shreveport which he calls home. He travels between all three when he's doing session work which is most of the time due to the high demand of his guitar pickin'.
For the last two years 2002 & 2003 James has played The Ponderosa Stomp in New Orleans during Jazz Fest sponsered by The Mystic Knights of The Mau Mau. At this years event he and Dale Hawkins hughlighted the show with a scorching rendention of "Susie-Q". Two buddies still going strong and bringing the people to their feet when they hear the riff that Burton made famous during the glory years of Rock-a-billy. The Two friends bowed to the crowd as they yellee for more.
It an't nothing new to James Burton, he's seen it all many times before. IT'S JUST A LIFE TIME JAM SESSION!
The World Outside Sun
Studio in 1954
August 18, 2003
While Sam Phillips Elvis Presley Scotty Moore and Bill Black were making history in a small recording studio in Memphis. Life was going on as usual in America. 1954 was unfolding and these are some of the events that were getting a lot of attention.Widmarc's
Juke Box Saturday Nite
August 18, 2002
All the Detroit car makers had a slump except Oldsmobile. Nash bought out Hudson. Studebaker merged with Packard. 15 of the 18 auto makers announced higher engine outputs. GM adopted the Panoramic windshield. Packard introduced Tubeless Tires. Chrysler but a Turbine Engine into a Plymouth Belvedere. A car dealer in Atlanta hired female car salesperson saying the Women improved showroom morale. The 1953 recession ended unemployment was 5.5.
Gasoline was .29 cents a gallon. GM President Harlowe Curtice made $637,233.00 for 1954. Soon that amount of money would be nothing to a young man down in Memphis.
Liberace was winning women's hearts all over America with his piano. Wonder how Liberace would stand up being on stage with Piano Wonder Boy J.L. LEWIS???? The Frozen TV Dinner was in front the TV eaten by thousands at the evening meal. Yep, the FROZEN TV DINNER was a product of 1954.
Willie Mays came home from the Army and batted with a .345 average for the 1954 baseball season with the New York Gaints. Bill Vukovich won the Indy 500. Senator Joe McCarthy was hunting Communists. Englishman Rodger Bannister ran a Mile in 3.58.8 seconds setting a World record.
Boeing tested the 707 commerical jet with test pilot Tex Johnson giving the beast a barrel roll. The Nautilus the first Nuclear Submarine was Commisioned. Children got vaccinated for polio. Millions of young men begin to sport Duck Tail Haircuts after seeing Marlon Brando portray the rebellious Johnny in The Wild One. OK! OK! I know we all thought Elvis started the Duck Tail Haircut. Well he saw the movie Too.
Alan Freed begin to play rock n roll at a radio station in Cleveland, Ohio to the displeasure of millions and millions of parents who didn't understand this new outrageous form of musical expression. Shortly Elvis would pour gasoline on this erupting volcano of music insanity that would have Southern Jack Leg Preachers screaming from the pulpit for his scalp along with breaking his records by the thousands – they never did understand that the more records they bought to break, the record stores bought more to sell. It was a losing battle that goes on till this very day and Elvis has been dead, as all of us know for over 28 years.
The New York Gaints won the world series four-games-to-one over the Cleveland Indians with the "Say Hey" Kid, Willie Mays, making his famous back handed catch that Vic Wertz sent flying 460 feet deep into the outer reaches of the Polo Grounds. Willie, running backward facing the wall made an impossible over the shoulder catch, robbing Vic Wertz of a sure game winning home run. Had any other player in the history of baseball been playing center field for the New York Gaints that September day in 1954, the Cleveland Indians would have won the game and possibly the World Series.
Later Elvis would pull off impossible feats to equal those of Willie Mays. Stan "The Man" Musial hit 5 home runs in a double Header aganist the New York Gaints. Two were off Johnny Antonelli who would go on to win 27 games in 1954, one off Jim Hearn and two off future Hall Of Famer Hoyt Wilhelm.
Joe Dimaggio would marry Marilyn Monroe, but it wouldn't last. Arnold Palmer would win The U.S. Amateur Golf championship at the country Culb of Detroit beating Robert Sweeny.
Big Movies in 1954 were: The High and The Mighty starring John Wayne; River Of No Return, Marilyn Monroe, Robert Mitchum; The Caine Mutiny, with Humphrey Bogart and Van Johnson. The most popular TV Shows were: I Love Lucy, Dragnet, The Milton Berle Show, This Is Your Life, and The Life Of Riely.
Some of the Top Pop songs were: Little Things Mean A Lot, Kitty Kallen; Sh-boom,The Crew Cuts; Answer Me My Love, Nat King Cole; The Happy Wanderer, Frank Weir; Hernando's Hideaway, Archie Bleyer; Young At Heart, Frank Sinatra.
Willie Mays, Hoyt Wilhelm, Stan Musial and Arnold Palmer are all in their respective Hall of Fame. Along with many other greats that made 1954 a special year.
No one could have known it, no one, could have. Snowballs were being tossed around, and that was good because there was snow enough for everyone. However, an Avalanche was slowly building on top of the mountains, and it would build momentum to the point that when it came crashing down it would sweep everthing away in it's path … and only one person would be left standing and that person would set a trend that no one had seen since Alexander Graham Bell Invented The Telephone. "ELVIS AARON PRESLEY HAD ARRIVED."
Widmarc's
Juke Box Saturday Nite
August 18, 2003
In the 1950's the Ole Juke Box played five songs for a Quarter, Today it's five songs for a dollar. In those thrilling days of yesteryear juke boxes were everywhere and all it took was a nickel and you could hear your favorite song.Put another nickel in in the Nickelodeon all I want to hear is Rock-a-billy Music.
The 50's were the Golden years of the Juke Box. It is reported that Blues Legend B.B. King once said I got known from them juke boxes, my records didn't get played on no radio stations.
Rudolph Wurlitzer founded The Rudolph Wurlitzer Co. in Cincinnati in 1856, he was born in 1829 in Shilbach,Saxony. At 24 he came to America and began importing musical instruments to sell on the american market. In 1880 he built his first Wurtlitzer Piano. In 1896 he built the first coin operated electric piano. He called it "The Tonophon".
Farny Wurtlitzer, who succeded Rudolph, bought a patented juke box Mechanism in 1933 and hired skilled professionals to build the juke boxes from their new location in TY. They called their juke box "The Debutante".
By the late 30's over fourty thousand juke box's were being built yearly. A very gifted designer named Paul Fuller styled the models "700" "750" and "850" using sophisticated plastic glass and wood.
After World War Two Wurtlitzer introduced the 1015 Juke Box. It was an Instant Hit. It's the juke box we all remember from the 50's. The styling was a sight to behold the attention that Wurllitzer gave to the 1015 was mesmerzing. The details included animated bubble tubes, revolving color columns and a revealed record changer.
Fifty six thousand 1015's were sold in the first six months of production. The 1015 is the most successful Juke Box ever built. The 1015 saw many changes, 78 rpm, to 45 rpm then LPs, and mono to stero and other technical changes.
Television cut into sales in the late 60's as the dominant form of entertainment. In recent years the juke box has had renewed interest. Many of the juke boxes from the 40's 50's and 60's have become collectors items.
In 1985 the Wurlitzer Co. was bought by The Nelson Group of Companies. Wurlitzer came out with a new Compact Disc juke box in 1989.
The 1015 has a new design it's called The 1015 One More Time CD Juke Box. The One More Time is a nostalgic reproduction of the original 1015 that been up dated with state of the art technology.
The main Office for Wurlitzer Jukebox Co. is Gurnee (Chicagoland) Illinois. The 80,000 sq. ft. The facility for production is in Stemwede-Levern, Germany.
My My My, have things changed. Today's stuff ain't bad but it ain't nothing like we had so many years ago when we had that good ole Rock-a-billy Rock n roll.
The Top Ten All- Time Juke Box Hit Singles.
#1 Houng Dog – Elvis – 1956
#2 Crazy – Patsy Cline – 1956
#3 Old Time Rock And Roll – Bob Seger – 1979
#4 I Heard It Through The Grape Vine – Marvin Gaye – 1979
#5 Don't Be Cruel – Elvis – 1956
#6 Rock Around The Clock – Bill Haley & His Comets – 1955
#7 Hey Jude – The Beatles – 1968
#8 The Dock Of The Bay – Otis Redding – 1968
#9 Lady – Kenny Rogers – 1980
#10 Cherry Pink And Apple Blossom White – Prez Prado – 1955
(The Summer Of The Winter Rain)
August 6, 2003
Many summers have come and gone since those romantic years of the 50's. Great songs were coming of my broken down Zenith radio. I'd tune in to hear Randy's Record Shop out of Gallatin, TN. I'd hear Guitar Gable sing this should go on forever thinking how I wished Millie Sue Simms that good lookin' girl knew I was alive. Wonder where she is today?? Who ever married her got a good lookin' woman?
Dean Martin with that great ballad Memories Are Made Of This, The Platters, The Great Pretender, Sanford Clark's The Fool, The Dell Vikings, The Coasters, Carl Perkins, Jim Lowe and The Green Door, Ricky Nelson, Teen Age Romance, The Cadets, Stranded In The Jungle, Nervous Norvous, Ape Call, Marty Robbins with A White Sports Coat And a Pink Carnation, Sonny James with Young Love, Ferlin Husky's Gone,Chuck Willis, C.C. Rider, Johnny Ace's Pledging My Love, Johnny Cash with I Walk The Line, The Diamonds doing Little Darlin', Fats Domino's I'm Walkin', Pat Boone with Ain't That A Shame, Little Richard was Slippin'And Slidin', and Bill Haley did Rock A around The Clock.
Turn your radio on anytime during the 50's especially the early years and you could expect to hear any of the songs I just named. The DJ would say Winx time 11:31, here's Billy Lee Riley on the Sun Record Label with a real gone rocker Red Hot – Yea you teens gonna love this one. And you could call the station and ask the DJ to play it again and he'd "say boy that's a rocker, yea, lets play it again, glad you called. Hell, I was gonna play it again anyway."
Those were the days everybody was rockin North to South and Coast to Coast. Hey out there we got a new one for you here's The Crickets and That'll Be The Day, give a listen … and see what you think about this one?? It was great, the Dj's wanted your opinion, "hey ya'll come on down to the station and listen to some of the new records we just got in and we'll play the one's you like on the air tonite so beat it on down here you ain't doin' nothin' but makin' out with your gal. Bring her down to (wanq) and lets play some rock n roll and have a ball."
Those were the grand days of Rock n roll up close and personal yes sir. If an artist came by your favorite station everyone was invited to meet him or her. They always had a picture to give you and many times, a copy of their record.
By the end of 1958 came (The Summer Of The Winter Rain), and with it came change, Jerry Lee got married, Elvis went into the Army, Little Richard became a Preacher, Bill Haley disappeared so did Sanford Clark. Chuck Willis died, the radio stations became distant and the doors were closed forever. No more personal visits. Whole Lotta Shakin, Great Balls Of Fire, Susie-Q , and Carl Perkins' brand of Rock-a-billy disappeared from the air waves forever. Then Buddy Holly The Big Bopper and Ritchie Valens got killed and we lost Rock-a-billy music.
I mean we got up one fine day and turned the radio on and our day in the sun was over. All that great music recorded at Sun went down the drain. Every effort to hear Rock-a-billy was in vain, washed away in (The Summer Of The Winter Rain). Now we still had rock-n-roll, Bobby Vee too weak for my Rockin Soul. American Band Stand was considered Grand but I never was a Frankie Avalon, Bobby Rydell, or a Fabian Fan.
It's been forty four years since those wonderful days of Be-Bop-A-Lula. Gene Vincent is no longer with us as are many of our Rock Legends it's as if Rock-a-billy was written on the sand and swept away by the sea.
Then one day in 1997 a fellow named Bob Timmers bless his little ole pea pickin' Heart opened up the Rock-a-billy Hall Of Fame and for the first time in over Forty Four years Rock-a-billy was back. He inducted artists into the Hall. You could now discover, hear and buy those great Rock-a-billy sounds of the 50's. You could read about them and actually get in touch with the legends. Lo and Behold you can even go to Rock-a-billy shows and see them perform. Bob Timmers has helped restore what was lost to us over Forty years ago "But" (The Summer Of The Winter Rain) is just around the corner waiting to take all away.
Yes my friends it can happen again and this time Rock-a-billy will be gone permanently. All those who understand that Great Time Of The 50's and what it means to American Musical History are getting old and won't be with us much longer, When they are gone the History they helped make WILL BE GONE FOREVER.
If you LOVE ROCK-A-BILLY and want to preserve it for generations to come and if you don't want that time in America distorted by people who were not there when it was taking place?? If so, hen SUPPORT THE ROCK-A_BILLY HALL OF FAME BY PLEDGING $120.00 or $10.00 per month for one year and keep the doors open for us to enjoy. I am giving $120.00 for this year and will do so each year to support the Music I LOVE. I hope many of you will do the same and prevent another (SUMMER OF THE WINTER RAIN). Widmarc Clark,
Widmarc's Rock-a-billy Sat Nite
sheliamorris@att.net
(Sam Has Left The Studio)
It's a Lonely Weekend
It's quiet at the little studio on Union Ave in Memphis, Sam's gone home only memories hang form the walls where rock-a-billy music was born. Memphis has lost The Father of Rock-n-Roll.
I was there this past year and made my way around the studio. I looked over the modest console that Sam had recorded "That"s All Right" on. No 32 track Hi-Tech catch-every-sound deal, just a 1 track get it down-right-the-first-time or lose-it-forever.
Looking through the large glass window from inside the console you see the area that Scotty Moore, Bill Black and Elvis stood when when Sam recorded them playing the sounds that later would become history.
Born in Florence, Ala,Sam made his way to Memphis working in radio stations as a Dis-Jockey till he had enough money saved to buy the equipment he needed to build a recording studio. A building was available on Union Ave. at a monthly price that Sam could afford. Sam moved in and begin to build his dream. He called his new business The Memphis Recording Service. Now he had a building and a studio but no business and a family to feed.
This is not a story that has rich beginnings such as Henry Ford or Howard Hughs, Sam Phillips was a long way from making money or being Famous. Sam met Dewey Phillips a local DJ and they decieded to form "The Phillips" record Co. Howlin Wolf came by, Ike Turner and Rufus Thomas and slowly the company begin to do a little business. Nothing was easy, all the Big Name record companies were in New York, Chicago or Los Angles. Nashville had Country Music under control leaving no reason for Sam Phillips to survive with his recording studio near the muddy Mississippi in the Western sticks of Tenn, in Memphis.
But survive he did aganist all odds, keeping his dream alive with one set back after another. Sam disolved his partnership with Dewey Phillips, as the company was going no where. Sam begin to record blues artist and sell the masters to Duke, Modern/RPM, Chess/Checker, Flair, Trumpet and Bullet records in Nashville. He even sent some demos to Mitch Miller at Columbia.
Sam had recorded B.B. King, Little Milton, Roscoe Gordon, Sleepy John Estes, and Joe Hill lewis and was still just making enough to pay the rent and buy a few groceries, he was getting no where selling his masters to other record companies, His Dream to do something no one else was doing was gathering dust. If he could only find something or someone who was different?? However Sam needed to do something quick or his Dream would go broke.
In Feb of 1952 Sam decieded to form his own record company and become an independent label. A move he was never to regret. In 1952 Sams brother Judd became a partner and Sun Records was off and running. Judd was everything Sam needed. Judd had worked for Roy Acuff and then moved on to Hollywood to work for Jimmy Durante in the Publicity Dept. Judd knew how to sell records through radio and was an ace at peddling records all over the south out of the trunk of his car. Judd set up record distrubition in New York Los Angeles and New Orleans.
Now Sun had National record Distribution. Junior Parker gave Sun it's first "hit" with (Feeling Good) then another with (Mystery Train). Most people have only heard Elvis sing the song however the orginial by Parker really Rocks. Next Sam begin to record country artists, he had Malcom Yelvington, Maggie Sue Whimberly who became Sue Richards and had a "hit" with (Norman) after she left Sun. Doug Poindexter, Clye Leoppard, Slim Rhodes, Hard Rock Gunter, Bill Taylor and Brad Suggs all recorded country music on the Sun Label.
All these artist passed in and out of Sun before Elvis came along. It's true Elvis got Sun Records known world wide. Then came Johnny Cash, Carl Perkins and Jerry Lee Lewis to help make Sam Phillips even more famous. However we must give credit where it is due. Sam didn't have to let Elvis go when he did. He could have held on to Elvis, he didn't, in a smart move he sold him for the amount he asked for. He then used some the money to buy into the newly formed Holiday Hotel which later became Holiday Inn.
Sam also kept Jerry Lee Lewis stable after his marrage to Myra Brown when the whole world was down on Lewis. He encouraged him and told him to wait things out that he would once again be rich and famous. With Sam's blessing Jerry Lee moved on to Country Music and did become again rich and famous.
Another artist from Sun that stayed in the shadows but has a world of talent is "the one and only" Billy Lee Riley. Billy Lee Riley has become an Icon of Rock-a-billy music. Billy Lee has kept going and and going and going and it's paid off for him as he's known around the world for his dynamic shows. You can't put on a Genuine Rock-a-billy show without Billy Lee Riley and without Sam realizing Billy Lee's talent we'd have missed a great entertainer.
Sam, thanks for those famous Sun 45's with the name Red Hot – Billy Lee Riley And The Little Green Men stamped on the beautiful Sun label. Sam ole boy, you gave us many memories that will last forever. Also, thanks for dropping by Memphis and setting up shop and filling our Hearts with the best Rock-a-billy music ever recorded. My friend, you stand tall in my Rock-a-billy book. Rest in Peace, I'll always remember you.
-Widmarc Clark
The Ponderosa Stomp II:
The greatest live show on earth

Dr. Ike and the Mystic Knights of The MauMau have out done themselves again. The big event was held at he Rockin Bowl in New Orleans to a three day sell out crowd, April 29th, 30th and May lst. All the great Rock-a-billy artist of the 50's were there plus a ton of blues artist from Lazy Lester to Guitar Gable. There was one of New Orleans best blues singer Barbara Lynn and her band. She put on a show that had everyone spellbound, what a performer.
The entire three days was standing room only.
Elvis original band Scotty Moore and D. J. Fontana rocked the joint along with Dale Hawkins, Ray Sharpe, Phil Phillips and Clarence "Frogman" Henry, what a performance that was. One of the all time great guitarist James Burton got together with Dale Hawkins and brought the house down with "Susie Q." Deke Dickerson and his Rock-a-billy band the Echofonics were on hand and just tore the place up when they did a set with one of Rock-a-billy's up and coming artist Big Sandy.

Deke Dickerson is without a doubt the best Rock-a-billy guitarist alive today. guitarist Paul Burlison, and Rock-a-billy star Rocky Burnette really rocked the house. You would have had to be there to believe what a knock out show they did. The rockin was none stop from 6 p.m. until 2 a.m. all three nights. Jay Chevalier the country rocker from Baton Rouge who was governor Earl K. Long personnel band when he was governor of Louisiana. Jay sang his famous ballad "The Story of Earl P. Long." There were over sixty artists during the three day event.
This was a big, big show people came from all over the USA and around the globe to see this star studded event. It is the greatest live show on earth and next years show is going to be even bigger. Bob Timmers of the Rock-a-billy Hall of Fame was there along with Rock-a-billy artist Roman Self son of the late rock star Ronnie Self of "Bop-a-lena" fame. Both said it was one of the best Rock-a-billy shows they had ever seen and they have seen them all.
If you weren't there you missed the best Rock-a-billy show of the year Truly the greatest live show on earth. Make plans to be there next year for the "rockin time of your life."
Gene Summers:
The School Of Rock N Roll

Gene Summers had a big hit with his recording of "The School of Rock N Roll." The recording went nationwide a little bit at a time breaking into the one market then into another one. Not many radio stations got the recording at the same time. However, the song was so powerful that it had it didn't die out even though it took several weeks to get into a major city. Once it began being played in Baltimore and Washington, D.C., "The School of Rock N Roll" was on it's way. Milt Grant played it in Washington D.C. Buddy Deane played it in Baltimore. Dick Clark began to play it at his record hops. The Milt Grant Show was always standing room only, broadcast from the Raleigh Hotel in downtown Washington, D.C., tickets were at a premium and had to be purchased weeks in advance. Teens all over the Washington area wanted to be on The Milt Grant Show to see in person their favorite rock star.
Getting on the show meant you had to know someone special and I wanted to see what the fellow looked like who made "Straight Skirt" and "The School of Rock N Roll." Anyone who made records that good, I wanted to see. Well it just so happened I knew that special person his name was Link Wray. Milt Grant was his manager. I got to see Gene Summers sing "Nervous" his second record on the Jan Label I was not disappointed. Gene looked like a young rock star and I thought to myself, man wouldn't it be great to be Gene Summers! I liked "Nervous" but, I loved "Straight Skirt, and "School of Rock N Roll." I bought "Nervous" because I liked Gene's style. I played "Straight Skirt" over and over then I'd turn the record over and play "School of Rock N Roll."
Gene and his band The Rebels had come up with a classic. When you listen to "Straight Skirt" the first thing that gets a hold of you is the deep bass sound then the piano and drums and James McClung hitting notes that jump out at you and Gene telling you she wears a "Straight Skirt." Brother that's pure Rock N Roll blasting it's way into your soul until you want to stop the car and get and dance in the road, and on occasion, we did just that. "The School Of Rock N Roll" was another pure rocker that never stops once played.
A record will become a hit if it gets requested repeatedly. That was the way of "School Of Rock N Roll." Teens all over wanted to hear "Straight Skirt and "School of Rock N Roll." No DJ or big wig record boss got the song played. It was played because teens loved the sound.
Many records were made in the time frame that Gene Summers started rockin: Elvis, Pat Boone, Sanford Clark, Carl Perkins, and Jerry Lee Lewis had left big shoes to follow not just any kind of jumped up sound would sell. The record had to be different. So it was way back when Gene Summers and his band The Rebels got a recording contract with Jan Records in Dallas Texas. Oilman, Tom Fleegher was looking for talent for is new label. Gene had a band and had played in high school. He was popular in the Dallas, Ft. Worth area. Gene Summers was ready to rock. Jan records was ready to roll. Gene and his Rebel Band James McClung, Benny Williams, and Gary Moon headed for Los Angeles, and Master Sound Studio. The group unpacked their gear and got started. They got the recording down and the sound was right. The finished product resulted in nothing less than musical magic.

The four young men had out done themselves the recording was #1 hit material. Gene Summers and his band had recorded one of, if not, the best rock record of 1958. They also recorded for later release "I'll Never Be Lonely." In this time frame of musical history in America the crescendo of rock music left an image and cast shadows that cannot and has not been duplicated to this day. What Gene Summers had recorded was deep rooted in Southern tradition. Some called it rock-a-billy, others said it was jived up country. What it was was a sound that was different from any other rock n roll song of 1958.
When "Straight Skirt" begin to get airplay Jan records sent Gene on tour promoting the record. Gene went from East Coast to West and back again. Things were doing well. The record was becoming a hit. The good news was Mercury Records wanted to buy Gene's contract and the rights to "Straight Skirt." Now the recording would have national promotions. The bad news was the people at Jan Records wouldn't sell Gene's contract. In the 50's small record companies always sold to major record companies due to high promotion cost and record distribution. In spite of it all "Straight Skirt" became a hit and left it's mark as one of the best rock records of 1958.
"Nervous" was a great recording and was also a hit for Gene. Just as "Nervous" was riding high in the charts, things got fouled up at Jan Records over a name dispute with another record company, who filed a law suit claiming they had the name "Jan" first. Gene's record company lost the law suit and thousands of his hit recording "Nervous" had to be returned. Once again Gene missed out on becoming the famous rock star he should have become, due to the mistakes of Jan records. The glamour of the record business had taken it's toll on Gene. He grew tired of long hours, little pay, promises not kept and disappointments caused by Jan Records.
Being in the spotlight and becoming a teen idle was great. However, unlike other star struck artist Gene's business mind told him he was not going to work for pennies and have the record company keep all the money that he had helped them earn. He by far was no fool and had no plans to play in smokey filled bars for fifty dollars a night after the hits stopped coming. Gene headed back to Dallas and went into the real estate business and to this day has built a solid real estate company in the Dallas area. From 1958 to the present time Gene has made hundreds of recordings, many of them have become hits and he still plays in selected clubs in and around Dallas and Ft Worth. Gene had a big country hit in the sixties with "Big Blue Diamond," on Jamie Records, which did well in the country charts.
Since 1958, Gene Summers has kept himself busy. Gene attended Arlington State College, Southern Methodist University and in July of 1961 married the very beautiful Deanna Trentham. They have three sons David Wayne, Steven Len, and Gregory Shawn. Gene has appeared in two movies "Backlot" in 1986. He played the part of a preacher in the film "No Safe Haven" with Wings Hauser in 1989. His wife Dea wrote the song "Who Stole the Marker From The Grave of Bonnie Parker," which was used in the movie "Billy Martin" and was released in 2000. Gene owns a publishing company and Front Row Records in Garland, Texas.
The list of Gene Summers accomplishments cannot be covered in this article. The list of recordings Gene has made since 1958 would take several pages just by itself. Gene is very active in today's Rock-a-billy music. He is in demand and does several shows a year in the USA and in Europe. I had the pleasure of seeing Gene perform at the biggest Rock-a-billy show ever held in Green Bay, Wisconsin in July of 2002. I got to shake Gene's hand and tell him how much I enjoyed his performance. He put on a great show and did all my favorites. The records Gene Summers made in 1958 are not being made today and most likely will never be made again. The Gene Summers recordings are classics. I highly recommend all of Gene's recordings for your record library. Gene Summers touring schedule and entire record catalog can be obtained by writing to the Gene Summers fan club, 222 Tulane St., Garland, Texas, 75043-2239.
Dea & Gene Summers after one of Gene's recent concerts. (Photo courtesy of Lew Williams)
Special thanks to Gene's son Shawn Summers for the photos in the article. Gene Summers and his Rebels legends of "The School of Rock n Roll."
Second Annual Ponderosa Stomp
The Mystic Knights of the Mau Mau are bringing the legends of Rock-a-billy to the "Big Easy" for three big nights of entertainment. Dr. Ike and The Mystic Knights have done the impossible by getting these legends together for another show. There will be over sixty-four Rock-a-billy stars of the fifties and sixties for the second year in a row. This years extravaganza will be at the world famous Rock-n-bowl, located at 4133 South Carrollton Avenue, New Orleans, Louisiana. The dates for the show are April 29, 30, and May 1st 2003. Tickets are on sale now at the Rock-n-bowl and The Louisiana Music Factory. Tickets can be purchased by mail by sending a check or money order payable to MKnmm Charities, Inc., 1521 Camp Place, New Orleans, Louisiana 70130. Tickets are $30.00 per night or $80.00 for all three nights. There will be a $1.00 surcharge for processing the order. Rooms are available at a discount rate for guest of the Mau Mau at Hotel LeCirque 2, Lee Circle in downtown New Orleans. You should order your tickets now and make your travel plans early. This is a big event and if it's anything like last year, tickets will sell out in a hurry.
Terry Stewart president of The Rock-n-roll Hall of Fame says when he talks about music events, The Ponderosa Stomp is "The Real Deal." Recommendations for this event don't get any better than this. One of the legendary stars of last years show will be back this year, Dale Hawkins who made the famous recording "Susie Q" on Checker Records in 1957. Dale brought the house down last year when he and James Burton closed the show with a sizzlin rendition of "Susie Q." They turned the wick up and put some wild touches on ole "Susie Q." They got the whole crowd rockin. No one wanted Dale to stop. Everyone was yelling one more time, one more time. On the fourth encore Dale said you people are great, I love ya, goodnight. I gotta take "Susie Q" home. If you've never seen Dale Hawkins perform live you better head it on down to New Orleans for a front row seat. Dale is a dynamic performer who will have you rockin from beginning to end.
Also making a return performance is Kenny Brown, Kenny is probably the best blues slide guitar player in the world. Kenny puts on a show that will keep you rockin. Other headliners are: Jody Williams, Billy Boy Arnold, Sun-Ra-Arkestra, Hubert Sumlin and Jimmy-T99-Nelson. Back this year are Paul Burilson a nd Rocky Burnette. Paul played lead guitar for Johnny Burnette, Rocky's dad. The Rock-n-roll trio included Johnny and Dorsey Burnette and Paul Burlison. The group made history when they recorded. "The Train Kept A Rollin" on Coral Records. Elvis was still at Crown Electric while the Burnette boys and Paul were touring and making head lines. Johnny and Dorsey have passed on, leaving Paul to carry on the legend. Eventually the trio split up. Paul returned to Memphis to work as a union electrician and retired several years ago and has just begun to do shows again with Rocky Burnette. Johnny and Dorsey became individual stars. One of Johnny's big hits was "Your Sixteen, Your Beautiful, and Your Mine." Dorsey had a smash hit with "Big Rock Candy Mountain." Rocky looks like his dad and sounds like his dad. He also puts on a great show. Don't miss these exciting performers.
Scotty Moore is back this year. He needs no introduction everyone knows Scotty was the sound behind "That's all Right Mama," "Heart Break Hotel," "Don't Be Cruel," "All Shook up," "Jailhouse Rock.," and other hits. Don't miss the opportunity to see and hear this legendary performer. Scotty has written a book "That's Alright Elvis." He signed my book last year, bring yours.
James Burton is another legendary headliner, who started his career with Dale Hawkins, playing lead on "Susie Q." James was a regular member of the Louisiana Hay Ride. James played lead guitar for Bob Luman, Rick Nelson, Elvis, John Denver, Emmy Lou Harris and has played on hundreds of recording sessions. James is probably the greatest Rock-a-billy guitarist of all time.
Lazy Lester is back this year. Lazy has been playing blues guitar since the forties and is a living legend. An up and coming guitarist appearing for the first time is Deke Dickerson a young man with great talents who is surely headed for stardom, and in time will become a legend. You must see this young man. He is in demand world wide and booked solid. It will be a rare treat to see this great guitarist.
Another Rock-a-billy star is Billy Lee Riley, Mr. Red Hot himself. Don't miss Billy Lee. He is unequal in showmanship, a true legend who recorded for Sun Records, Jerry Lee Lewis played piano on Billy Lee's recording of "Red Hot." Billy Lee has done it all. He's been a record producer, owned his own record company, toured the entire globe several times and been in the entertainment business since 1955 and is still going strong.
Tony Joe White will be appearing, Ray Sharpe,"Linda Lou" Guitar Gable "This Should Go On Forever." Rod Bernard, Roy "Boogie Boy" Perkins, Eddie Bo, Joe "Guitar Hughes" C.C. Adcock, Clarence "Frogman" Henry "I Ain't Got No Home" "I Don't Know Why I Love You, But I Do," Phil Phillips "Sea of Love." and other outstanding performers. This is a show of shows you will never see this much entertainment in three days for $80.00 and have the pleasure of being in New Orleans at the same time. During the day there is unlimited things to do in and around the Big Easy. How Dr. Ike got all these stars under one roof is truly a miracle. This is Dr. Ike's big secret and he's not talking. Don't miss this big show. Some of these legends are getting on up in age and may not be performing publicly much longer, however, I have said this before and they still continue to perform year after year, so what do I know. Be that as it may, this is a once in a life time opportunity to see over sixty-four legends of Rock-a-billy, Rock-n-roll, and Blues under one roof. Bring your camera, plenty of film and your autograph book. Dr. Ike deserves recognition for this show. Not even Dick Clark on his best day ever got this many stars together at one time. See you in the "Big Easy" in April.
Believe it or not,
they had just one hit!
These groups or individual artist had only one song to make it to billboards top forty, in the 1950's. The billboard chart list started at one hundred and went to number one. Your record got in the charts if it was in the top one hundred play list. However, your song wasn't a hit unless it made it to the top forty. The top forty play list of the fifties was not like the top forty play list of today. In the fifties you could hear R&B, country, pop, and rock n roll on the same radio station. If a song sounded good, the station played it.
New artist and new record companies big and small all had an equal chance to get a hit recording that is why the fifties was the most exciting time for music trends in America, as an example, independent record companies Sun, Chess, and Imperial could compete with RCA, Capitol and Decca. Jerry Lee Lewis, Chuck Berry, Ricky Nelson, and Elvis all had million selling records. This happened because the major record companies weren't interested in these small label artist. Elvis being the one major exception.
There were hundreds of independent record labels in the fifties. In business today, out of business tomorrow. When one label folded another label took it's place. The small labels had the latest sounds and styles and the teenagers couldn't get enough of it. The small labels were imaginative, creative, uninhibited and gave the artist complete control over their recordings, that would be unheard of today, a producer would handled the entire project. If the teenager could buy the record they heard on they radio, they bought it. Small record companies were always in a rush to get their latest hit recording in the record stores before the teens forgot about it for another hit record already in stock.
All record companies kept the recordings to less than three minutes, due to limited play on junk boxes and radio stations. If a recording was a hit, an album was put out immediately. You could cut an album with new material in less than a week or fill it with unreleased material. Studio time was cheap. There was little risk involved and the owner of a record company could make millions if all went well, and many times it did. All radio stations had a production room that could be used as a recording studio. The radio station engineer could set the system up with a microphone, hi-fi mono two track tape recorder and the record company could be on the way to a hit recording. The record company many times was an empty room in the radio station, however, many smart businessmen owned these places of music magic and just for good measure to stay out of the way of a comprised situation the record company might be down the street a block or two. As Richard Nixon used to say, "Let me make one thing perfectly clear." Small record labels did sell some of their recordings to larger record companies this was usually when the recording was sure to become a hit Dot Records probably bought more small label recordings than any other record company. The Del Vikings hit recording "Come Go With Me" was bought by Dot Records from a small record label.
One important aspect of small record label business was publishing and you could rake in millions of dollars for years to come by owning the copy rights and publishing rights of a recording. Many, many recording artist of the fifties signed away their publishing rights of a song they wrote for as little as twenty-five dollars. Most recording artist were teenagers or in their early twenties and the record company owner was a clever businessman in his forties. Many of the young artist had no idea what publishing was about. An artist was probably told they would get a royalty of two or there percent on the amount of records sold. By the time you take out promotion cost, studio time, studio musician time, cost of DJ copies to hundreds of radio stations, shipping the record to the distributor, and the freebees the distributor always got, add taxes to the list. If an artist had a million seller after the manager took his ten to fifteen percent and the booking agent took their fifteen percent, the artist was lucky if they earned fifteen thousand dollars. Usually, after all the deductions were added up the artist got nothing and to add insult to injury if your next recording was a flop, you were most likely dropped from the record label. However, the artist did get to keep the money they made from personnel appearance while on tour. If you did manage to keep your writing royalty it wasn't unusual to see the owner of the record companies name beside your name as co-writer of the recording.
Billboard began reporting hit songs in l940. A hit is any song usually a forty-five RPM that made it to the billboards top forty hit list. Our believe it or not list are those artist whose record make it to the top forty hit list JUST ONE TIME!!
Johnny Ace – "Pledging My Love," #19, Duke Records, March 1955
The Penguins – "Earth Angel," #8, Doo Tone Records, February l955
Lenny Dee – "Plantation Boogie," #19, Decca Records, May l955
Chuck Miller – "House of Blue Lights," #9, Mercury Records, August l955
The Eldorados – "At My Font Door," #17, VeeJay Records, July l955
Bonne Lou – "Daddy-O," #14, King Records, December l955
Julie London – "Cry Me A River," #9, Liberty Records, December l955
Barry Gordon – "Nuttin For Christmas," #6, MGM Records, December l955
The Teen Queens – "Eddie My Love," #2, RPM Records, May l956
Carl Perkins – "Blue Suede Shoes," #1, Sun Records, May l956
The Cadets – "Stranded In The Jungle, #15, Modern Records, June l956
Sanford Clark – "The Fool" #6, Dot Records, September l956
Eddie Cooley and The Dimples – "Priscilla," #20, Royal Roost Records, Nov l956
Ivory Joe Hunter – "Since I Met You Baby," #12, Atlantic Records, Dec l956
Mickey and Sylvia – "Love is Strange," #11, Groove Records, March l957
Marvin Rainwater – "Gonna Find Me A Bluebird," #18, MGM Records, June l957
Joe Bennett and The Sparkletones – "Black Slacks," #17, ABC-Paramount October l957
Tune Weavers – "Happy, Happy Birthday Baby," #5, "Checker Records, October l957
Thurston Harris – "Little Bitty Pretty One," #6, Aladdin Records, November l957
Hollywood Flames – "Buzz, Buzz, Buzz, #11, Ebb Records, January l958
Jody Reynolds – "Endless Sleep," #5, Demon Records, June l958
Frankie Ford – "Sea Cruise," #14, Ace Records, April l959
This is not the complete list of JUST ONE HIT there were many others.
Great Rock-a-billy
Songs Of The Fifties
Even though I have put the songs in order one through ten no one song is better than the other. They are all great and are just listed as one through ten. As an example, Elvis is listed with "Baby Let's Play House" as the first song on the list. That does not mean Elvis song is number one. It just means, he was the first song listed of the ten. If I was stranded on an island in the Pacific I would want these ten songs with me.
1. "Baby Let's Play House" Elvis Presley, Sun Records, 1955. This is a great Rock-a-billy song, good beat, good to dance to, good listening song. The song has a lot of meaning to it. Studio artists Elvis Presley, Scotty Moore, Bill Black.
2. "Memories Are Made of This". Capitol Records, recorded 1955 at Capitol Studios in Hollywood. Dean Martin vocal. Great Rock-a-billy song even though, it was considered Pop Music at the time. The song had just a guitar and standup bass with great background singing. It was a big hit for Dean Martin. It had a good beat, easy to dance to, good listening song with great meaning. Not considered Rock-a-billy, but what else could it be?
3. "Blue Suede Shoes" Carl Perkins, Sun Records, 1956. Written by Carl Perkins. Carl Perkins on lead guitar. His two brothers backing him up with standup bass and rhythm guitar. Fluke Holland on drums. The most played of Rock-a-billy songs. Most rock historians consider "Blue Suede Shoes" as the ultimate of Rock-a-billy. Good beat, great to dance to, good listening song. The only top forty hit Carl Perkins every had.
4. "Suzie Q" Dale Hawkins, Checker Records 1957. Written by Dale Hawkins and James Burton. Recorded at KWKH in Shreveport, LA., in 1957. Dale Hawkins vocal, James Burton lead guitar, Joe Osborne bass, Ronnie Lewis on drums. Probably the best blues Rock-a-billy song every recorded. The opening rift on the song performed by James Burton it probably the most famous of any Rock-n-roll song of the 50's. Good beat, great to dance to, good listening song. "Suzie Q" will go down in history as one of the best Rock-a-billy songs every recorded. It stands the test of time.
5. "Sittin In The Balcony" Eddie Cochran, Liberty Records,1956. Cochran recorded the song when he was eighteen. The song is as professional as any recording every made. Eddie Cochran wrote the song, played lead guitar, sang lead, and produced the recording session. It also stands the test of time as one of he best Rock-a-billy songs of the fifties.
6. "The Fool" Sanford Clark, Dot Records, written by Lee Hazelwood even though on the record the writing credit it given to Naomi Ford, Hazelwood's wife. Al Casey played the echoing lead guitar that gave the song it's distinctive sound. Sanford Clark sings the song as no one else could have. Great Rock-a-billy song, good beat, great to dance to, good listening song. The song has one of the best true life stories of the fifties, and one of the best every recorded.
7. "Singin The Blues" Guy Mitchell, Columbia Records. 1956. Stayed on the Pop Charts for months, great Rock-billy-song, good beat, great to dance to, good listening song. Marty Robbins covered the song and did quiet well with it, however, Guy Mitchell had it all together on this one, another gem of the fifties.
8. "Whole Lotta of Shakin Going On" Jerry Lee Lewis, Sun Records, 1957. Jerry Lee Lewis on piano, Jimmy Van Eaton on drums, Roland Janes on lead guitar. Without a doubt the greatest Rock-n-roll song ever recorded. When you hear the recording you think you are listening to a seven piece band. Jack Clement put a microphone under the keyboard and when Jerry Lee Lewis started pounding on the ivories the song gives the effect of a class five hurricane, which in fact is exactly what it is. There was complete magic when this song was recorded and it's electrifying beat has never been equaled and never will. It goes down as the greatest Rock-a-billy song ever recorded. Jerry Lee Lewis has many faults to be sure, but "Whole Lotta of Shakin Going On" has no faults and is a perfect recording.
9. "Be Bop-a-Lula" Gene Vincent, Capitol Records, 1956. Gene Vincent lead vocal, Cliff Gallop lead guitar, Jack Neal stand up bass, Willie Williams rhythm guitar, and Dickie Harrell on drums. One of the greatest Rock-a-billy recordings ever. The song had it all. It is a perfect recording. The recording lacks for nothing. It was perfectly produced and recorded by Ken Nelson in Nashville. The song stands the test of time as one of the best Rock-a-billy songs ever recorded. It is a historical fact that Gene Vincent had the best voice of anyone in Rock-a-billy music and that includes Elvis Presley.
10. "A White Sports Coat And A Pink Carnation" Marty Robbins, Columbia Records, 1956. The song was a smash hit for Marty and it show cased a talent that was to become a legend. Marty Robbins took a great song and sent it to the top. "A White Sports Coat And A Pink Carnation" is a perfect ballad that has tremendous meaning to it. Great to dance to, good to listen to, stands the test of time as one of Rock-a-billy's greatest songs of the fifties. One of the best efforts Marty Robbins ever had.
I would love to hear what you consider the ten greatest Rock-a-billy songs. Let me hear from you. Which of these ten Rock-a-billy artists rode to his first gig on a bicycle? The answer will be in my next column.



Ray Vernon
The Man With The Velvet Voice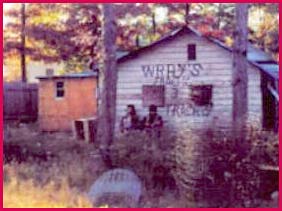 Many years ago down in Dunn, North Carolina, Ray Vernon was born. I have always had a fondness for North Carolina, because my Mother was born in the mountains of Western North Carolina, in the little sleepy town of Marion.
Vernon was the oldest of the three brothers. He had two younger siblings Link and Doug. His name wasn't Ray. It was Vernon, Vernon Wray. He had several aka's.
Lucky was the one used most often, other than Vernon. After Ray finished high school, he went into entertainment playing gigs in Dunn and the surrounding area. It wasn't easy to do in the days following World War II, because transportation was at a minimum. It is not clear to me if Ray used other musicians other than Link and Doug in his early entertainment days. I know that Link and Doug played with him most of the time. At some point early on, Ray acquired a car and the trip to the gigs became much easier.
There was always music around the Wray household, his mother was a big influence musically in Ray's early life if not all of his life. When Link And Doug got out of high school, they began to play at military clubs. The military clubs were located in eastern North Carolina, Ft. Bragg, Seymour Johnson, AFB, The Marine Base at Cherry Point. They worked their way up to Virginia to work the Navy Base at Norfolk, Little Creek Amphibian Portsmouth, Virginia any place to make a buck. The military clubs were good place's to work because they always got paid, and they didn't have to worry about getting their selves their equipment torn up. They also worked Virginia Beach and played at dance's and night clubs in and around the Norfolk area.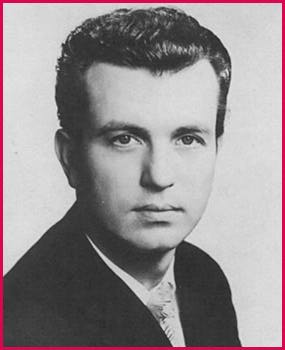 At some point while Ray was working in the Virginia area he crossed paths with Shorty Horton. Shorty played bass in a lot of country bands in the area. He was a very funny man with big sense of humor. It always seemed to be the bass man who was the cut up of any country band and Shorty was no exception. Keeping in mind this was country music, Ray was playing and Shorty added a lot of flavor to the group. He blacked out his teeth and wore an old hat with holes in it. He wore bib overalls. He didn't shave for two or three days. He was the perfect Pappy Yokum, right out of the little Abner comic strip. He fitted the mold of the typical West Virginia mountain hillbilly. Shorty fit right in with the group, giving it the last ingredient it needed to become a top country band. Ray decided that they needed to move to Washington, D.C. where country music was really going great guns, behind the ingenious promotion of Connie B.Gay. Ray and his band loaded up the car and head north on 95 to Washington, D.C.
When the band arrived in Washington, DC, they were known as Lucky Wray and The Palmetto Ranch Boys. It seemed country music bands had to have a western name. I suppose since Roy Rogers, and Gene Autry had Ranch's every other legitimate cowboy with his guitar and band had to have a ranch or be associated with one. Lucky Ray and the Palmetto Ranch boy's were no exception. They began to play in bars and night clubs any where and every where in the Washington, D.C. area. By this time it was 1956 and a young man named Elvis Presley was kicking up quite a fuss down south in Memphis and it was spreading to all parts of the country. The question comes up time and time again, if Elvis recorded his first record in 1954 why didn't more potential bands who were doing country music start doing rock originated music before 1956-57? They did, but they could only do what they heard on the radio. Those bands who were near Memphis or Shreveport, New Orleans, Nashville, Houston, and Los Angles had the advantage. They were near recording studio's who were looking for talent.
That also included Chicago and New York. Washington, D.C. was far removed from the main stream of rock-n-roll with almost no recording facilities, and what it did have was leaning toward country. All the country singers who got lucky in the Washington, D.C. area went to Nashville to record, with one exception Philadelphia. While playing in a club one night a talent scout from Cameo Records in Philadelphia heard Ray singing and invited him to come to Philadelphia to do some recording. The owners of Cameo Records were so impressed that they signed him to a recording contract. Ray recorded "Evil Angel," but was not satisfied with the result the band was giving him. He returned to Washington, D.C. to get his brother Link. Another recording was made, but not to Rays satisfaction. This time he brought back his brother Doug who played drums and Shorty Horton played bass on the recording session. They recorded "Evil Angel" again and the outcome was perfect. "Evil Angel" never got the air play it should have. Ray did a perfect job singing the song. "Evil Angel" was hit material and should gone high in the charts, but it got lost in the promotional shuffle at Cameo. Charlie Gracie had just recorded "Butterfly" and it was being pushed very hard because Andy Williams had just covered the song. As it turned out Charlie Gracie's song stalled and Andy Williams went on to get the big air play on "Butterfly. Other recordings were made but no promotion was given to them as by this time Bobby Ridell had taken over as the number one artist at Cameo.
Ray became very discouraged at the outcome at Cameo and did some recording Edgewood Studios on Vermont Avenue with Link and sent the demos to Liberty Records in Hollywood. They signed Ray to a contract and released "My Sugar Plum," but gave the record no promotion. The song died without ever hitting the charts. Ray Vernon had a beautiful voice. He could sing any song he wanted and it would sound like a million dollars. His voice had a velvet touch. His range was so good he could reach any note he wanted. Why he didn't try to get on a major country music label? I'll never know. I suppose that will always be a mystery. He should have made it big in the entertainment business.
Ray spent most of his career promoting and producing Link. He opened up his own recording studio, The Record Factory. Ray was a good recording engineer. He was a man who was blessed with many talents. I worked for him as a talent scout while I was a DJ at WDON in Wheaton, Maryland. I worked for him when he moved the studio to Accokeek, Maryland. He called it Wrays Shack Three Track. I brought Don Barnes from Frederick, Maryland to record there when he was a Maryland state policeman. Don went on to become sheriff of Frederick County.
The Ray Vernon I knew in 1957 was a gentle person, who worked very hard for his brothers and Shorty Horton, so they could make a living in the entertainment business. I have a lot of respect for Ray and I learned a lot from him. I use what I learned from him till this very day. I know Ray was short changed when it came to his personal career and I think it bothered him a lot. I will always believe he gave up a recording career so his brothers would have a better chance at recoding a hit record. If that be so Vernon Wray did well at his decision, because "Rumble" made Link famous. The name Ray Vernon or Vernon Wray may not mean a lot to you who are reading this column, but I will share this with you, if it had not been for Ray Vernon there would have been on "Rumble" and possibly no need to write this column. In the many halls of rock-n-roll there are stories that have happened and we never hear of them. This could have been one of them. It's not as if I was writing about Elvis and you were hanging on every word, this is about a man of many talents who you possibly have never heard of who gave up some of them so the talents of someone else could shine through.
Ray moved out to Arizona and did more producing and eventually out despondence took his own life. I will always remember Ray Vernon as the man with the velvet voice.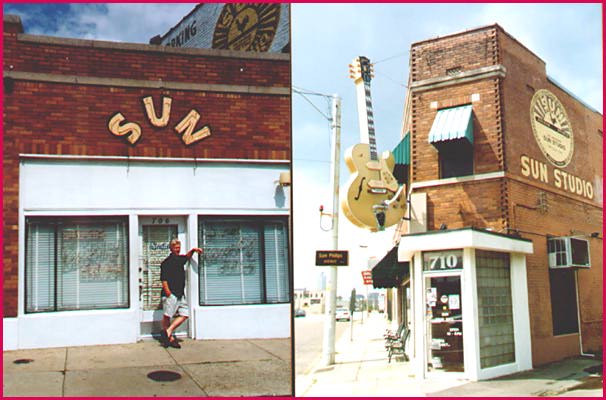 Photos by Shelia Morris Perfect Image Photography
Elvis left the building twenty-five years
ago, but the legend is still alive
Okay, here we go again. Another deal on Elvis for the 16th million time. Round and round we go and where we stop everyone knows is Graceland. Let's try and make a comparison from 1977 to the present time 2002.
Let's begin by asking the question, would Elvis still be wearing the jump suits, which by the way I never liked. I always thought when he came out on stage wearing this attire he looked like he had just left the set of a Cecil B. Demille movie about the Roman Empire or he had borrowed some stuff off of that weird convertible of Webb Pierce's, you know the flashy deal with the saddle and horns by the driver's seat and a colt revolver for a gear shift and all the money embedded in it. The stage outfits seem to be somewhat outrageous, no matter which position you viewed them from. I always thought his early dress was more fitting to the Rock-a-billy cat he started out to be.
I can't see him in that stuff today, surely someone would have taken him to the fashion police. The black hair would need some grey in it, surely he would not have kept it jet black in 2002. I would hope that he would be singing his Rock-a-billy songs, which always had a lot of meaning, flavor, and fun to them, not to mention the good guitar playing and bass work of Scotty Moore, Bill Black and D.J. Fontana. Those long drawn out orchestrated songs done in the style of Las Vegas really got boring as they slowly drummed on from show to show. Even when he did his early songs the large orchestra seemed to play them with no feeling and how can you do "That's Alright Mama" with a 25 piece orchestra. Bo-ring to be sure because it only took a 3 piece band in the first place.
I know the four engine Convair 880 jet liner would be gone a more conservative Beech Craft King Air would be the air travel of choice in this day of high expenses. No one in Elvis' age group (67 and up) tours the way he did in 1977 I don't believe he could do it either.
Two thousand and two is a much different world economically and musically from the one he left in 1977. Would people want to see him? probably many would. Would he still be in big demand in the USA? probably not. I imagine his biggest audience would be in Europe, Australia, and Japan. Would he still have hit records in the charts? probably not. Good songs are few and far between. Elvis would probably have become bored at the material that was offered to him. Elvis would have been in the musical business over 48 years, that's along time to stay excited about anything. Could he still fill a one hundred sixty thousand seat arena? It possible, but not likely. Whether he could still fill large arena's would depend on his personnel life and if he had continued to make personnel appearances and if those personnel appearances were good performances. He didn't get much bad publicity when he was alive, because he was shielded from the press. Whether that would be so today would remain to be seen, because people want to know all about you in our present time. His personnel life in 1977 could have ruined things for him for the future. Red and Sonny West had just published a book "Elvis What Happened?" shortly before his death. The public sympathy ran in his favor after he died. His fans always seem to come to his rescue how that would have played out had he lived we will never know.
He is a national hero and an American icon. I would not be surprised to wake up one day and be told that he has been added to Mount Rushmore along with George Washington, Thomas Jefferson, Abraham Lincoln, and Teddy Roosevelt. Neither would it surprise me that he had replaced George Washington on the dollar bill. He could probably run in the next governor of Tennessee election and win it, but would all these things be possible if he were alive today? I think it would be doubtful. Would he join forces and support the Rock-a-billy Hall of Fame or the Rock-n-roll Hall of Fame? He has been inducted in both. I would hope common sense would prevail and he would choose the Rock-a-billy Hall of Fame. Would he come back to the roots of Rock-a-billy music or would he look the other way? I think he would do both. Would he have made up the financial obligations he owed to Scotty Moore and Bill Black for helping make him famous? He would have if he really was the Elvis we have read and heard about. However, he never did so when he was alive. Scotty had to make a living the best way he could and is still doing so today. The late Bill Black formed the Bill Black Combo and toured with his band to make ends meet. Should Elvis have shared his wealth with Scotty, Bill and D.J. Fontana? That is a question that requires a lot of moral and legal answers, from a layman's point of view, yes he should have, because they started off as a group. The same as the Beetles or The Beach Boys or The Coasters. They were a group!!
When Elvis died, it was reported that the estate was worth 10 million dollars. Today it has been reported that the estate is worth upwards toward 2 to 3 hundred million. Elvis Presley Enterprises is big business. I was there not long ago. Take my word for it, I was not alone. How big Elvis would be in 2002 had he lived? We will never know. As a guess probably not as big as he is today. What we do know is he made Rock-a-billy music famous, thank you Elvis. He made all of us Southern folks proud to be Southern, thank you Elvis. Twenty-five years later there are questions about Elvis still unanswered, thank you Elvis.In the fifties he made us proud to be teenagers.
He was our hero. He made us laugh, he gave us hope, he was our friend through his music when we didn't have one. Not only did he give us his best as a person, he gave us the best music America has ever had. Thank you Elvis, Scotty, Bill, and D.J. God Bless all of you without you we would still be listening to Artie Shaw, Perry Como, Doris Day and all the others that I personally didn't care for. Maybe it would have been better if Elvis had stayed with Sam Phillips and Sun Records. After all has been said and done Sun Records is still in Memphis Tennessee at 706 Union Avenue. By the way, Elvis could I get back my 25 cents that you borrowed from me in Taylor's Restaurant in 1954?
Working On A Building
If you enjoy reading about the roots of Rock-a-billy music, how it got started. Where it was started. Who helped get things rolling. The people who were there in the beginning. Where are they now? What is Rock-a-billy? Who had the first Rock-a-billy record? What was Rock-a-billy in 1956? What record company recorded the the first Rock-a-billy song? Who sang it? Who wrote the song? Where is that person now? What happened to the record company? How many records did it sell? Was it a HIT? Who played on the record? Who was the first D.J. to play the song? In what state was the radio station located? What was it's call sign? How many watts did it have? Where are the session players who played on the record ? What was the first Rock-a-billy song in a Hollywood movie and why isn't (Sanford Clark) in the Rock-n-Roll Hall Of Fame?
If you know the answers to all these question? Then you have been tuning in to the Rock-a-billy Hall of Fame.
You can't find the answers to all these questions without the Rock-billy Hall of Fame, for the simple fact it would take one hundred and fifty books on Rock-a-billy history to make such a discovery, and that many books would take a lot of reading. I doubt that there are that many books on the history of Rock-a-billy. Ok, so there may be a thousand books on Rock-a-billy music, that's not the point, the point is, that the Rock-a-billy Hall of Fame has all that information just waiting for you to read any time you want to 24 hrs a day.
But wait there's more, much more, if you pay your on line bill every month and tap into the Rock-a-billy Hall of Fame all that information is abso-100%-lutely FREE, that's right Free, and I don't give a Hoot where you live on the planet if your on line the information is free … And if your into the History of Rock-n-roll that is a Big.., Big.., Bargain. Try to find that low price always … at … Wal-Mart.??? Goodness gracious great balls of fire! You can't do it. It's only at www.rock-a-billyhall.com so come on in and join in he fun, it's the Smithsonian Institute of Rock-a-billy history. You can spend as much time looking around and browsing as you want. You can get a shopping bag if you want and you can ,I say you can, if you want, buy stuff. However that is up to you and keep in mind you dropped in to get information and that is 100% free, no charge. Like Wal-Mart the Rock-a-billy Hall of Fame is open 24 hours a day. And as you may already know many of your favorite artist have been inducted into the Rock-a-billy Hall of Fame. It's done by mail at the present time, due to the fact that there is no building to house all the artifacts and such that go along with having a suitable site to put it in. To be sure there is a (TON OF STUFF) just waiting to be housed in a Rock-a-billy Hall Of Fame Building.
Wouldn't it be nice to be able to travel to Burns, Tennessee in the not to distant future from where ever you live, to see all the people who have been inducted get inducted again into the Rock-a-billy Hall of Fame. Have a Big Ceremony inside and outside a beautiful building that all of us could be proud of?? Then you could see all your favorite STARS get inducted together, now that would be something to tell your grandchildren about.
Well lets do it, lets build a beautiful building that we can all go to and see things about our favorite Rock-a-billy stars go inside, walk around, and stay till closing time. Then come back the next day and see all the things we missed the first day. There would always be some shows going on in the world famous Rock-a-billy Theater. Why go to Branson, Missouri ,When you can see the people you really LOVE at the Rock-a-billy Hall of Fame. They have Elvis week in Memphis. Lets have Rock-a-billy week in Burns, Tennessee. Bob Timmers has done a great job starting the Rock-a-billy Hall of Fame, however, he can't do it all. He needs our help to get a building started. It needs to be done now. For example, Link Wray one of the Greatest Rock-a-billy guitarist in the world is now 73 years old. How long will Link be able to travel so you can see him ??? And there are many more, such as, the Comets, Bill Haley's original band, some of them are in their 80's and still playing, however, they need a real home like the baseball Hall of Fame in Canton, Ohio where we can all go from time to time to see them play. Talk to them. Get pictures with them. Things we all can treasure for the rest of our life's.
Let's not wait any longer. Let all of us who love rock-a-billy start working on a building. Send what you can. One dollar, or whatever it means to you to have a place to go and be a part of one the greatest times we ever had in America. Those rockin Rock-a-billy days of the 50's. Yes, They are gone ,but the memories of those great days still live in our hearts, and they will never die because the one's of us who were there saw it happen. I guess we ought to know, so lets build the building that will stand to tell the story of us teenagers who were rebels in the 50's. We truly did have a good cause, cause we loved Rock-a-billy music and the hundreds of Rock-a-billy artist who helped make the 50's the greatest musical influence of the 20th century.
Working On A Building
C/O the Rock-a-billy Hall of Fame
P.O. Box 639
Burns, TN 37029 USA
The Wild Cat Tamer
Strike's Again

Dale Hawkins & His Pet Manx Zinger
Photo by Shelia Morris, The Perfect Image Photography
Dale Hawkins brought the house down at the Fine Art's Center in New Orleans, during Jazz Festival Week, in May of 2002. His enthusiast audience would not let him leave the stage. In Paris, France on June 30, 2002, his show was electrifying. At the 50's festival in Green Bay, Wisconsin, Dale brought his road show "The Wild Cat Tamer" to town and again brought the house down. He had three encores. Finally Dale said to his lead guitar player Deke Dickerson "Let's take 'Susie Q"' home." He told the audience you've been great. I love all of you. He then slung his guitar over his back and walked off stage and signed autographs for 2-1/2 hours. The master showman has not lost his touch. Dale Hawkins the legendary performer has become an Icon of American music. He has learned his craft well.
Dale grew on Louisiana Swamp Blues. The style and sound of music heard no place on earth, but in Louisiana. He also learned the plantation blues sung by black field hands in the smoldering heat of summer to help to forget the back breaking work they had to face each day. Dale learned the rhythm of these chants, as he worked in the cotton fields with these fine people who had nothing, but music in their soul to cling to as if it were life itself.
Dale Hawkins a product of Louisiana was born and raised there Dale wrote "Suzie Q" when he was 15 and got his recording to Checker Records in Chicago to do so at such a young age was a task few people could have handled. Dale knew his calling would be a life in musical entertainment. From his first recording of "Suzie Q." He surrounded himself with musicians such as James Burton, Carl Adams, Joe Osborne, Roy Buchanan, Scotty Moore, and DJ Fontana who could play the style of music he wanted. He recorded for a record company of all black artist making getting a hit for a white artist almost impossible. However, Dale is made up of "True Grit." The kind of man you would want with you walking down a dark alley in the baddest part of town. Not only did he get a smash hit with "Suzie-Q." He got two more hits on Checker records. Dale Hawkins has lasted over forty years in a business that only a strong self willed determined person can survive in. Dale has been a producer and has managed several record companies. He has become a giant in the industry of American music. He is taking his "Wild Cat Tamer" road show this summer to Decatur, IL. Hope, Ak and Boston, MA. He's working on a new CD and is planning to add more excitement to his already exciting "Wild Cat Tamer" road shows. Dale Hawkins, the man, his music, the legend.
Link Wray
No Bragging It's Understood
When he starts playing, put your axe down. The legendary Link Wray is in town.
Fred Lincoln Wray, was born in Dunn, NC in 1930. Link and his brothers Vernon and Doug began to play around Dunn, NC and surrounding towns in the late 40's. They played country music of course. No Rockin in those days. They had a trusty ole radio tubes and all. Imagine a song just getting good and the ole tube starts to flicker. Somebody give that thing a whack. Today you'd just run in the next room and turn on your extra CD player with FM already there. When Link was a kid FM was an unheard of for the most part. AM only and radios were not such a common commodity. The Wray family listened to the Grand Ole Opry. All good rural southern folk listened to the Opry. You had to hear Ernest Tubb and Roy Acuff and by the 1950's that new guy from Alabama Hank Williams was singing "Love Sick Blues," now there's a rocker for you.
LinK Wray at the Shim Sham Club in the French Quarter in New Orleans July 21, 2002.
By 1951, the young Wrays were playing all across eastern North Carolina, and military bases were becoming very important to them, because you always got paid and they didn't have to play in honky tonks behind chicken wire. By this time the trio had decided that making music was better than working in a cotton mill or yarn factory and much, much better than farming tobacco or even worse life in a tobacco warehouse drying out stinking tobacco leaves. Things were working out good for the country lads when Uncle Sam invited Link to join the Army and visit Korea. While Link was in the Army in Korea, he contacted TB and became very sick and had to have one of his lungs removed. He was discharged and returned to his home in Dunn, NC.
In 1956-1957 the Wray brothers decided to move to Washington, DC, because country music was real big there. On the way they stopped by Portsmouth, VA to pick up Shorty Horton their bass man. Shorty knew Gene Vincent and they either played a gig with him or just talked with him. Shortly never made it clear to me which it was. Afterward they headed on to Washington, DC and began to play around town as Lucky Ray and the Palmetto Boys. Their paths crossed Milt Grants who was a Disc Jockey and he became their promoter and manager. However, I don't ever remember a time when Ray let go completely his managerial position of the group. Rock-n-roll was coming into its own and they gave up their country clothes for coats and ties which the rock-n-roll groups were wearing and became Link Wray and the Wraymen.
Ray had a minor hit with "Evil Angel" on Cameo Records out of Philadelphia and shortly after that in the summer of l958 they recorded "Rumble" in Nashville. Except it was called "Odd Ball" there are many versions of how "Rumble" became "Rumble." Shorty Horton told me that Archie Blyer's daughter played the record and told her dad it had a rumbling sound to it. Be that as it may when the record was released it was under the name "Rumble" by Link Wray and the Wraymen on the Cadence Record Label out of Chicago, Il which was owned by band leader Archie Blyer. The recording went on to be a big hit for the group and sold over a million copies when all was said and done.
Cadence was a good solid record company. Archie Blyer had a good reputation for treating his artist fairly. However, a dispute occurred and the Wraymen left the company after only one recording. The group moved to Epic Records and Rawhide was released. Rawhide was recorded at Edgewood Studios on Vermont Avenue in Washington, DC. It sold good and became another hit for the group. Shortly afterward a disagreement occurred with the Epic producers and their A&R department. Link left Epic Records even though he had two years left on his contract he recorded "Mary Ann" and "Ain't That Lovin You Baby," but no more hits happened after "Rawhide." An album was released on Epic which was a disappointment to all concerned. With time remaining on his Epic contract, Link did no more recording for the company choosing to record for several small record companies under different names than his own.
Link worked night clubs in Maryland, Virginia, and Washington, DC throughout the 60's and 70's. Ray his brother opened a recording studio in Accokeek, Maryland on a farm and the whole Wray family moved there. They called their studio Wrays Three Track Shack. After several years, the band split up Link went solo. Doug Wray became a barber and moved to Waldorf, Maryland and Shorty Horton the bass guitar player worked with many bands playing country music in the Washington, DC area. Ray closed the recording studio, sold the farm, and moved to Arizonian. Link went to work for Robert Gordon and recorded two albums with him in California. Link remained in California after his split with Robert Gordon. By the 90's Link's long overdue reputation as the king of the power chord caught with him and he began to be recognized as the greatest metallic rock guitarist in the world. Link Wray can play more guitar in one song than most guitarist can play in a month. He is that good and better. Link Wray is the best rock guitarist of the 21st century. Why he has not been inducted into The Rock-n-Roll Hall of Fame is their problem. I suppose they don't know enough history of rock music to understand they have left out a legend.
I saw Link Sunday, July 21st play in the French Quarter in New Orleans, Louisiana. He has a three piece band including his son on bass. He played all his ole favorites. He was just great. I spoke with him briefly. We recalled the golden days of the 50's in Washington, DC. Link said, "Bobby it's great to see and old friend." I got a hug from one of the most gracious and kind persons I have ever known. Link Wray is truly a rock legend. And at 73 bless his heart he's still rockin as good as ever. Long live Link Wray the ole Cherokee Chief.
For all of you who may not know, Link Wray is part Cherokee Indian and is very proud of his American Indian Heritage.
Special thanks to Diane Scott of the Continental Club in Austin, Texas and Cain Burdeau of the Associated Press in New Orleans, LA for helping me with this article on Link Wray.
Rock-n-Roll Hall of Fame
Why are so many artist who helped create rock-n-roll not there.
First of all the Rock-n-roll Hall of Fame should have been in Memphis not Cleveland. The fact that Alan Freed had a R&B radio program there called the Midnight Moon Doggie Show, and wanted a name for the new type of music (that we now call rock-a-billy) to differentiate between the two he named the later rock-n-roll so he would have two kinds of music to play on his program. The other being that Elvis played his first show out of the south in Cleveland is no reason to put the Rock-n-roll Hall of Fame there.
Alan Freed, now declares "Rock Around The Clock," "Good Golly Miss Molley," "Lawdy Miss Clawdy," and other songs similar to it rock-n-roll. So rock-a-billy music became rock-n-roll, because it didn't have a name in the beginning. Actually, it was a cross mix of R&B and country then twenty years later someone suggested that country and R&B was rock-a-billy music. The two kinds of music got fused together and out pops rock-n-roll. Legends die hard and once things get mixed up and stories get told, the real truth gets so thin we never know what to believe. Had things been different, we might have had a new ball game so to speak, but legend has it the system went with rock-n-roll then all the records that were basically country with a jumped up beat to it and R&B was called rock-n-roll. All the DJ's nationwide picked up on it mixed up the pot and called it rock-n-roll.
Dale Hawkins' "Susie Q" got labeled rock-n-roll, even though the song probably would have been somewhere between R&B and country. Buddy Holly's "That Will Be The Day" came out rock-n-roll and most likely the song was country. The same can be said for the Penguin's "Earth Angel," which was truly R&B, but it was labeled rock-n-roll. The same with Carl Perkins, Johnny Cash, Jerry Lee Lewis, Sonny James, and Gene Vincent. All had records that were by today's standards either rock-a-billy or country. They were all labeled rock-n-roll. Be that as it may, by 1959 all the great rock-a-billy music was gone and the dye had been cast. We were stuck with rock-n-roll, with one big exception, the music being played wasn't rock-n-roll either. By this time, the trend had gone back to pop music. It was still referred to as rock-n-roll as Dick Clark was now in charge of the nationwide trend of music with his American Band Stand Show in Philadelphia. It was his belief that Frankie Avalon, Fabian, Bobby Ridell, Neil Sedika, Paul Anka, Del Shannon and many other singers were rock-n-roll , if they were?????????? Then Elvis Presley is still alive.
From 1954 to 1958, we had the best music ever produced for teenagers in our country. That music was created by some great artists. In many cases not much older than the teens they created the music for. The independent record companies could be creative without top management telling them what to do. Today all those companies are gone. Sun, Chess, Dot, Specialty, Imperial, and Roulette are all gone. One day in 1959 teenagers across America woke up and rock-a-billy and its artist were gone. All that is except Elvis. He was in the army. He made records while in the service, but they were not the same. Elvis wasn't the same hillbilly cat who made "Mystery Train," That's Alright Mama," and "Heartbreak Hotel." He was a Hollywood movie star now. He never came back to his rock-a-billy roots and he made mostly mundane records until he died. I am not taking anything away from Elvis. He did make different types of music to fill a wide vast audience. Col. Tom Parker made sure Elvis' product would sell no matter how it sounded. That surely took away the original sound of 1954, 55, 56 and 57. Then years down the road, the Rock-n-roll Hall of Fame opens up in l986 and as in the beginning in 1955 when rock-a-billy got labeled rock-n-roll. The Rock-n-roll Hall of Fame people got history all mixed up again. They didn't research "the roots of rock-n-roll" or its originality. They just used the term rock-n-roll and selected certain artist to represent the whole spectrum of a very particular type of music, never giving thought to how it was formed or the many people who helped make it an original sound. It took more than Sam Phillips to create rock-a-billy music and it took more artist than Elvis, Carl, Johnny, or Jerry Lee to make it sound like it did in the beginning. They helped pioneer the sound, but many others were doing the same thing and they also helped spread the rock-a-billy sound to hundreds and hundreds of teenagers. Some of the artist who were there in the beginning and should be in The Rock-n-Roll Hall of Fame are Dale Hawkins, Buddy Knox, Sanford Clark, Pat Boone, Billy Lee Riley, Link Wray, and Bobby Day of "Rockin Robin" because, they helped lead the way to the sound that is called rock-n-roll. Johnny and Dorsey Burnette and Paul Burlison also helped pioneer rock-a-billy music. It took the Hall of Fame twelve years to induct Gene Vincent. He should have gone in with Elvis and the rest in l986.
Thanks to the efforts of Bob Timmers of The Rockabilly Hall of Fame, who's persistence finally paid off when Gene was inducted twelve years late in 1998. We owe Bob Timmers a great deal of gratitude for founding The Rockabilly Hall of Fame. He has set the history of rock-a-billy music straight for all of us to see also he has inducted all of the artist who were left out of the Rock-n-Roll Hall of Fame. When you think about non performers such as Sam Phillips and Alan Freed being in the hall of fame how could they have not inducted Col. Tom Parker along with them in 1986 . There is no other manager in the history of any kind of music that did as much for their client as Tom Parker did for Elvis Presley. His management of a superstar is unequal wither you like him or hate him according to what you have read and been told about him, he should be in the The Rock-n-Roll Hall of Fame. That's my story and I'm sticking to it.
Roy Buchanan
"Gone with the Wind"

I first met Roy when he was playing lead guitar with Dale Hawkins. Dale came up to Washington DC to play at the Rocket Room, located on New York Avenue. At that time country music and rock-a-billy were both strong in Washington DC and it wasn't as sophisticated as it is today. It was a fun town, filled with musical excitement. The Rocket Room was at the heart of it all from there you could walk to many of the night clubs.
When Roy and Dale came into town I was doing some traveling with Link Wray up the east coast into Philadelphia, New Jersey, and New York. When Link was off the road, he played at the Ozark Club up on 9th Avenue, which was his home base. When Dale came into play at the Rocket Room, I went down to see him. Up on the marquee, in red letters was Dale Hawkins and The Bass trio. When I arrived, they were doing a set. I could hear the good sound of rock-n-roll pouring out of the place as I entered the door. Things were really going strong and the guitar of Roy Buchanan was blasting out beats loud and long. When the set ended, I asked Dale who you got playing lead? He said, "Roy Buchanan, he is from Okalahoma." "Let me introduce you to him." Roy was maybe five foot nine, slender, brown hair, brown eyes, light complexion, soft voice. Hi! I'm Roy Buchanan. How do we sound he asked? I replied the band sounds great and you play a mean axe, and Dale, Roy, and I laughed.
On the next set Dale went into some of Checker Record recordings. One song he did was "My Babe" an ole Willie Dixon tune that Roy just tore up. He used the slide he picked he made that telecaster squeal so bad I thought at anytime both guitar and amp would blow up and piece's of it would be scattered all around Washington, DC. Roy was young, I think he was twenty-one. I had heard some good pickers Link Wray, Roy Clark, James Burton, Scotty Moore, and Charlie Daniels, who was playing up the street at Benny's Rebel Room, but Roy Buchanan had a style that was different from them all. Roy didn't move around, or make his face sequence up or look like he was in agony when he played. He just stood there and bent notes of out that "fender" that went up, down, across, over here, over there, and bounced around the room and tried to get outside before Roy grabbed them and squeezed them again. I loved to hear him play "Guitar Boogie." Everyone who learns to play the guitar learns to play "Guitar Boogie." and Roy would play it in the traditional style for a few bars then he would break into the "Roy Buchanan style" from then on when you heard "Guitar Boogie" it would never be the same again, after Roy played it for you his way. Because that's the way you wanted to hear it forever, and no one in the world could play "Guitar Boogie" like Roy. He'd slide the notes up then down. Then he'd make them squeal and turn them around and bring them back to you in a different direction. All the while your saying this is the greatest guitar playing I have ever heard.
Dale Hawkins discovered Roy and got him started and let him play the way he wanted. Roy could make a song for you. He made "My Babe" come to life with his style of picking and he did the same thing on Dale's Checker Recording of "I'm Gonna Love You" Roy's guitar playing on that session had the style to take a song to the number one position in the nation, and if I'm Gonna Love You" had been given the proper air play it could have been a number one hit. When Dale's contract was up at the Rocket Room, he went on up the east coast working night clubs in Philadelphia, New York, and Boston. Roy stayed in the Washington DC area and began to work with country bands. In the fifties rock-a-billy, rock-n-roll, and country worked hand in hand together a good country band would play "Hey Good Looking" then play "Blue Suede Shoes", and the audience loved it all.
Washington DC had every kind of music. Big Al Downing was working in DC and played country and rock. He could have done what Charlie Pride accomplished in the 70's in country music had he wanted to and had he had the backing, because Big Al Downing had the talent to do it and he did have some country hits in the 80's. Roy had lots of places to work and lot of bands to work with.
When I got out of the Navy in 1965, and went to work for WDON, Roy was still working the clubs in Washington DC making a good name for himself in country music. You didn't have to go on the road to make good money, It was cheap living in the fifties in Washington DC. You didn't need a car to get around because DC had one of the best transportation systems in the country. Roy found a good home in the Maryland, Virginia, and Washington DC area. Virginia had as many night clubs as Washington, DC. Roy had no trouble letting his talents go to work for him and it was a great life style. At some point in time Roy met up with Danny Denver, who could play the piano like Jerry Lee Lewis and lived somewhat the same life style, wild and crazy. They made their home base at the Crossroads Supper Club in Bladensburg, Maryland just outside Washington, DC. The Crossroads was a no holes barred "juke joint" that was everything but a supper club. I did a live radio show there for awhile. Myself, Oscar Shields, and his band did a thirty minute program from there that didn't last long, because every time we went live on the air the station would cut us off, because of all the screaming and hollering in the club.
Roy played there a longtime and would leave town and tour with various bands, but he always came back to Washington, DC. The last time I saw Roy at the Crossroads threw a big party for him. He didn't look good. He didn't play like I was used to hearing him play. I knew Roy Buchanan had the talent to be as big as Duane Eddy, Lonnie Mack, B.B. King, Link Wray. He did make his mark in the halls of country rock and blues music, but some where it went all wrong for Roy. He ended his life by hanging himself in county jail in Fairfax, Virginia.
I'll always remember Roy Buchanan as a nice soft spoken guy from Tulsa, Oklahoma who could play his fender with the best of the best and now as with the big movie of the same name Roy Buchanan is "Gone with the Wind."
The Younger Brothers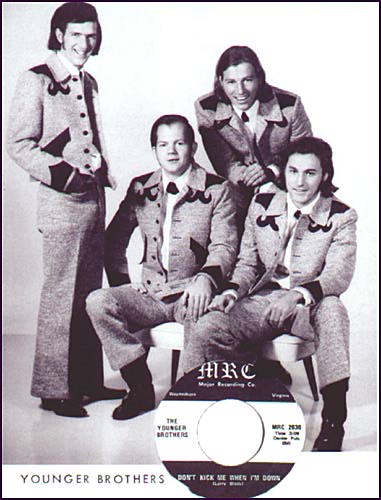 The Younger Brothers were a country band out of Falls Church, Virginia, just outside of Washington, DC, and next door to Maryland. From 1967, until 1969, they were the road band for Jimmy Case, who was located in Falls Church also. They were an exceptionally good group of musicians who not only played country music, but played rock-n-roll, rhythm and blues, jazz, and rock-a-billy. Tony Cornell was the lead singer and played acoustic guitar. Tony was blessed with the ability to sing anything and do it well.
Jimmy Edwards played bass and was a music major, who could read, write, and compose music. He played bass as good as any studio musician in Nashville. Jimmy Case, Myself, and Hank Henry had a booking agency in Rockville, Maryland. At the same time we booked military officer, NCO, and CPO Clubs from Maine to Texas. Jimmy Case had been playing country music forever. He had worked with at one time or another with just about every act in Nashville and The Wheeling West Virginia Jamboree. Jimmy knew Patsy Cline and worked shows with her and Dale Turner back in the early 50's. Jimmy met the Younger Brothers when they were first getting started in 1960, when they were teenagers. Buddy Badgett, who played drums with the group got his trade honestly. His dad Buddy Badgett, Sr. had played professionally in the Washington DC area for years and wound up his career with the String Dusters, one of the best bands the Washington, DC area ever had. They had a recording studio in a night club in Falls Church, Virginia called Hunters Lodge. There probably wasn't a country band in Nashville that hadn't played Hunter's Lodge, in the 50's, 60's, and 70's. If your picture wasn't on the wall in Hunter's Lodge and you were considered a name country band, you had better throw away your guitar pick and go back to your day job.
Doug Palmer, who played steel guitar, lead guitar, and saxophone, grew up around Hunters Lodge and was a big fan of the String Dusters. The four young musicians met in high school and formed the band Young and Country when they graduated, they began to play around the DC area. Earl Dixon who owned Hillbilly Heaven Records in Fairfax, Virginia heard them playing one night and signed them to his label. Earl released one record "You" b/w "Lots Of Time To Kill" written by Tony Cornell and Doug Palmer. The record went no where and the decided to change the name from Young and Country to The Younger Brothers then they went on the road with Jimmy Case for several years. When Jimmy, Hank, and Myself went into business together both Jimmy and Hank had their own booking agency. We decided to combine all three agencies and us my company's name Promotions Unlimited.
I was working as a disc jockey for WDON a country music station in the Washington DC area. Jimmy decided he wanted to do nothing but country music. The Younger Brothers wanted to do rock-a-billy, so Jimmy hired Ed Spicher's band out of Ohio. Ed is the brother of Buddy Spicher. The fiddle player who has played on so many recording sessions in Nashville.
I became the manager of the Younger Brothers. I liked rock-a-billy and at that time country rock was coming into it's own. I can remember playing "Honey Don't" by Mac Curtic at WDON. It was a jumped up version of Carl Perkin's "Honey Don't" on Sun. Tony came up with an idea to do Elvis' early stuff. He worked it all out and told me to come over to the Pizza Hut where they were playing in Fall Church, Virginia. When I got there, they had done one set. Tony said, "I want you to meet Danny Gatton." "He helped me work this thing out." I had not met Danny, but I had heard he was one good guitar player. They did this Elvis deal. They started off with "Mystery Train" with Danny on lead. The hair started standing up on the back of my neck and I got chills up my spine, hearing Danny play. I thought I was hearing Scotty Moore. Danny had every lick down perfect. They went from "Mystery Train" into "My Baby Left Me," right into "That's Alright Mama." I Couldn't believe it. Boy! Had they come up with some kinda knock you out show. They stayed at the Pizza Hut about two weeks and I went over several times to see the show it was beyond belief. Tony tried to get Danny to go on the road with them, but Danny would have no part of it. I never saw Danny after that. He went on to become famous in his own right as I knew he had to.
The Younger Brothers wanted to relocate to Nashville. They did some shows with Narvel Felts and he wanted them as his back up band, but it never worked out. Later Billy "Crash" Craddock wanted them and I worked out a deal with him and The Younger Brothers became his band, and he changed the name to the Dream Lovers. I'll say this when Billy Crash took the Youngers as his back band they were as good as any rock-a-billy band anywhere. Wonder what they would have been like if Danny Gatton had stayed with them? That was many years ago and the last time I saw Tony or Crash Craddock was when I was watching Nashville Now one night and Ralph Emory introduced them as his guest. Many things have changed since those thrilling days of yesteryear. I know I'm not the first one to say this and I know I won't be the last, so here goes … At one time I managed one of the best little country bands in the business.
Mystery Train: Elvis' Fifth and
Final Single for Sun Records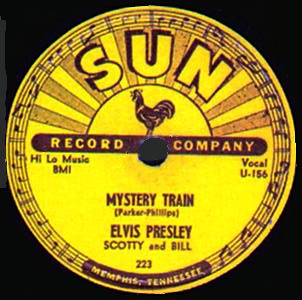 The song was written by Junior Parker and Sam Phillips in 1953. Parker used the name Little Junior's Blue Flames when his recording was released. Parker gives the song a feel of rhythm and blues using a saxophone that givesthe recording a sound like a train rolling down the track. The song tells a story about a man who lost his woman to the mystery train, then he gets on board trying to find her. It's the last record released by Elvis on Sun, and possibility his best. It's a pure rocker that just keeps on rockin. The ghostly sound of Elvis' voice moaning and crying the words of the song and Scotty's ghost like guitar playing gives you an eerie feeling the whole band is chasing a runaway train down a lonesome track, on a foggy night, somewhere in the mountains of West Virginia. Elvis keeps repeating the words the train I ride sixteen coaches long; the train I ride sixteen coaches long; well that long black train; took my baby and gone.
Elvis and Junior Parker are singing the same lines, but Elvis is rocking his train and Junior Parker has a R&B feel to his recording, putting the two artist on different trains and different tracks. Elvis had to make this recording his own. Parker had it out first, and took it as far as he could take it in any direction. Elvis takes over and takes control of the train. Elvis gets the throttle in his hands and plans to get his woman back, no matter what it takes. Elvis lets everyone know in his best Sun rockin style that the train has taken his baby, but it never will again. Elvis has taken the song and made it his own riding the train into the night laughing as he goes WHOOOOOOOO! H i! knowing he has his baby back. Elvis didn't know it at the time, but his laugh and WHOOOOOOOO! H i! at the end of the record would make rockin history.
Mystery Train was recorded on July 11, 1955, at Sun Studios in Memphis. Scotty Moore on electric guitar. Bill Black on standup base. Elvis on acoustic guitar. The first song recorded was I Forgot To Remember to Forget. It was written by Stan Kesler and Charlie Feathers. Elvis didn't want to record it, but Sam insisted adding Johnny Bernero playing drums. When Johnny got the beat to where Elvis wanted it, Elvis gave in and recorded the song. It was the first time Elvis had added drums to one of his Sun recordings, also that day, he re-recorded Trying To Get To You. Elvis had been wanting to get the recording of Trying To Get To You to his liking, but hadn't been able to do it. This time they added Johnny Bernero on drums and he got the song the way he wanted it.
Seventy-eight RPM records were the standard in 1955, even though a certain amount 45's were being released, but 78's out sold 45's by a wide margin. It was also in this time frame that Tom Parker began to take more control over the management of Elvis even though Bob Neal was Elvis' full time manager. You could say that in 1955, The Mystery Train was rolling more and more in the direction of Tom Parker. Tom Parker also began to push Sam Phillips to sell Elvis' contract to a major record company. The company he had in mind was RCA due to the fact that he and Steve Sholes who was manager of the A&R Department were friends. Sam Phillips may not have wanted to let Elvis go, but Sam was strapped for cash. The cash flow to get records pressed and distributed was putting the little record company in a bind and Sam owed Elvis for back royalties. Sam needed money for his new radio station WHER, which was to be located in the lobby of the new Holiday Inn Hotel in downtown Memphis. The Mystery Train had Tom Parker trying to get Elvis to RCA and Sam Phillips was Trying To Remember To Forget he needed cash flow. These were the circumstances in 1955, that led to the mystery of how the legend of Elvis Presley began. It was created in a mysterious way and grew to be bigger than life.
Many years later Elvis would try to ride the mystery train back to where it all started, but he could never get off the ill fated train nor his destiny in life. So, he rode the mystery train till he died. What his life might have been had Elvis not forgotten to remember reality will never be known. It's been said that he has left the building, maybe so, but he still rides the mystery train forever.
A reporter at a small time newspaper had just discovered that a legend that they all knew about was not true at all. He asked the editor of the newspaper, should I write the true story or print the legend? The editor replied, Print the legend!
Who recorded the first rock n roll record?
It seems an easy enough question to answer. It had to be Bill Haley's "Rock Around The Clock." No, It wasn't Billy Haley. Well, if not Bill Haley, who was it? After all Bill Haley was the father of rock n roll. Well, it must have been Elvis with his recording of "That's Alright Mama." He was the king of rock n roll. No, certainly it was not Elvis. Do you really believe "That's Alright Mama" was rock n roll with just three musicians on the recording, one electric guitar, one standup bass, and one acoustic guitar. If the song had a style to it at all, it was probably country music. So who had the first rock n roll record? Good question.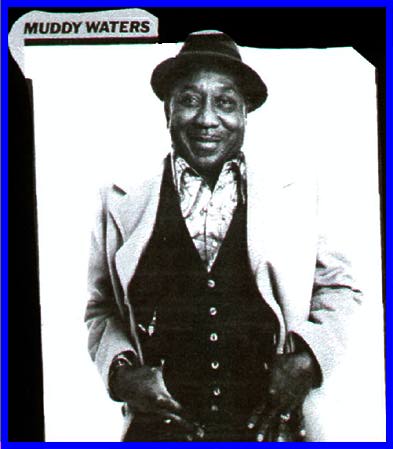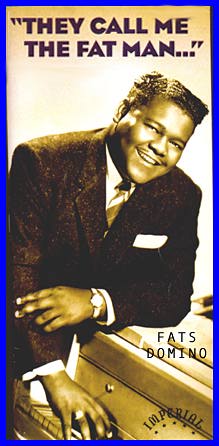 Muddy Waters gets no credit in the history of rock music or any other kind of consideration, but his 1951 recording of "Hoochie Coochie Man" and "I'm Ready" is as rock n roll as anything recorded in the 50's. Muddy's recordings were considered blues, because there was no rock n roll terminology in those earlier years, but bluesmen had been rockin for years, the term was understood musically as well as sexually going back to the 30's. In 1948, Fats Domino recorded the "Fat Man" and many claim his recording to be the first rock n roll record, however, his recording of "The Fat Man" falls between jazz, blues, and boogie woogie. Possibility then there was no first rock n roll record. Maybe all the recordings leading to a first rock n roll record came in the door at the same time. History says that's not the way it happened. In 1951 Ike Turner and his band The Kings of Rhythm were traveling north on highway 61 to Memphis to Sam Phillips' studio to record "Rocket 88", when a Mississippi state trooper pulled them over for having so much junk inside, outside, and on top of the car, plus seven people inside the car. Where are you going with all this junk the patrolman asked Ike? Ike told him he was Ike Turner. He was headed to Sam Phillips' studio in Memphis and was traveling there from his home in Clarksdale, Mississippi. The patrolman sized up and Ike and his story and decided it all must be true. The he said don't let me hold you up. Get on your way and good luck to you.
When Ike and his band arrived, Sam Phillips asked Ike what he was going to record. Ike told Sam "Rocket 88. Sam knew Ike played piano but did little or no singing. Sam asked Ike since you don't sing, do you have a vocalist to do the song. Ike who was always prepared, said to Sam my friend Jackie Brenston will do the singing. Raymond Hill who was sixteen, played saxophone on the recording and "Rocket 88" probably would have been just another run-of-the-mill recording had it not been for Raymond's saxophone playing, which added everything that the recording needed to become an exceptional song.
Willie Kizart played a driving lead on his guitar and Ike played a hard driving rhythm on piano. Between Raymond, Willie, and Ike they blew the doors off he studio, truly they had recorded a smoking, fire burning rock n roll record. They wrapped up the session in two takes. Sam sent the master to Leonard Chess in Chicago.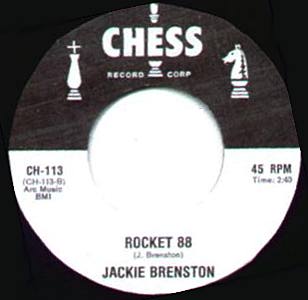 The brains behind "Rocket 88" belonged to Ike Turner who was a genius when it came to picking songs and producing hit records. Just ask Anna Mae Bullock who became Tina Turner and Ike's wife for many years. Now you know the story of the first rock n roll record. Hail! Hail! Rock n roll.
Questions down through the years.
Q: Did Bob Luman have James Burton and Joe Osborne backing him up on "Red Cadillac" and "Black Mustache" when he recorded on Imperial Records?
A: They played on the record.
Q: did Jerry Lee Lewis ever say that he was the king of rock-n-roll and not Elvis?
A: From the time Jerry Lee recorded "Crazy Arms" and "End of The Road" his first recording on Sun everyone knew that he was going to make it big. No one realized just how big he was going to make it. Whether he said I'm the king of rock-n-roll or not, matters not. There was a time even Elvis was worried Jerry Lee might take his crown. Never under estimate Jerry Lee Lewis on anything. He just might do it.
Q: Where is Conway Twitty from?
A: Frairs Point, MS.
Q: How many hits did Carl Perkins have?
A: One, "Blue Suede Shoes, but it went to number one on the pop country and R& B charts.
Q: Of all of Elvis' number one recordings, which one stayed number one the longest?
A: All Shook Up was number one on billboards hot 100 chart for 8 weeks.
Q: What ever became of Robin Luke who recorded Susie Darling on Dot Records?
A: Robin Luke born March 29,1942 in Honolulu, Hawaii. He began writing and singing when he was eight years old. He wrote Susie Darling about his five year old sister in 1958. It was his only hit. He is now a professor at a college in Norfolk, Virginia.
Q: Did Elvis own a chimpanzee?
A: Yes, he did. His name was Scatter.
Q: Sam Phillips founder of Sun Records sold Elvis' contract to RCA for $35,000. I guess he has many regrets over that sale?
A: You must remember that Sam Phillips became one of the original stockholders in the Holiday Inn Motels. He also sold his Sun catalog to Shelby Singleton for several hundred thousand dollars it has been reported. Today Sam Phillips is a millionaire living the good life in Memphis, Tennessee.
Q: Did rock n roll legend Little Richard work as a dishwasher in the Greyhound bus station in Macon, Georgia before he became famous?
A: Yes he did.
Q: Where did the late great Bubby Holly record his hit record of "That'll Be The Day"?
A: At Norman Petty's studio in Clovis, New Mexico in 1957.
The First Time I Heard The Fool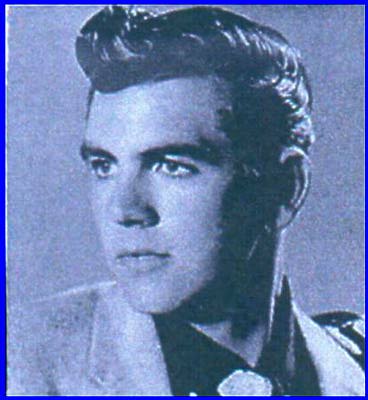 SANFORD CLARK
I remember the first time I heard the The Fool. It was in 1956. I was listening to my small Zenith radio that had a big hole in one end of it, not much of a music box, but it got the sound out. That was good enough for me. I was living in Ohio at the time. My family had moved there from Alabama. I was tuned into a radio station in Daytona, Ohio, when the DJ said, "Here's Sanford Clark and The Fool." The beginning licks on the guitar let me know I was hearing something special. Then Sanford began to sing: Gather around me buddies; Hold your glasses high and drink to a fool, a crazy fool who told his baby good-bye. From that moment on, I was hooked. I was pulled into the radio and into the heart of those haunting words.
The song had a bluesy, rockin, shuffling beat to it, with Sanford's smooth echoing voice that left an impression on me that has lasted until this day and has become my all time favorite song. The Fool has a real life meaning. A lesson for all of us. The next verse lets you know that the guy that Sanford was singing about was in real trouble, when Sanford sings: He needs her; He needs her so; He wonders why he ever let her go. Sanford keeps repeating those haunting words reminding us that if you got something good you better hang onto it. Now that's real meaning! You get a sad empty feeling way down deep inside when you realize that the girl you love has found someone new. The song goes: She's found a new love buddy; He's a lucky guy; So drink to a fool, a crazy fool who told his baby good-bye.
Not many songs have a message delivered so purely as only Sanford Clark could do it with The Fool. The guitar and Sanford's smooth easy voice tell a story in a song that very few recording artist have been able to do. The Fool, is without a doubt one of the best songs ever recorded in the fifties. The composition is blues, but it also has a great country feel to it, perfect for any juke box in any honky tonk on any Saturday night, however, it has a pop feel and the song fits perfectly into rock-n-roll.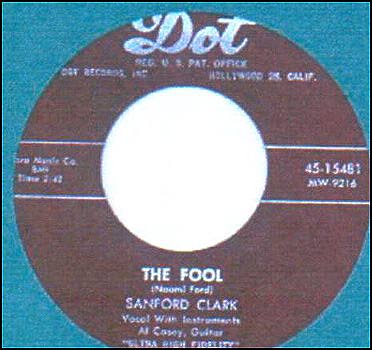 Sanford Clark put so much feeling into the song that we all felt the pain. The Fool sends cold chills up my spine, because we all know that what happened to the fool could happen to any of us. Just think about breaking up with the best looking girl you ever dated, now buddy that would really be a fool thing to do. No doubt about it The Fool is a class recording. I've never grown tired of hearing it, because it's put together like a Swiss watch the movements are perfect and when you blend it all together you have one of the top ten recordings of the twenty first century. The songs just that good. If I had to get rid of all my recordings in my studio, and I have hundreds of them, and could only keep one it would be The Fool by Sanford Clark.
When Sanford Clark walked out of the studio, after recording The Fool, he didn't ever need to record another song, because he had recorded the perfect song. Few recording artist ever have an opportunity to make a recording that never grows old and stands the test of time as a classic, The Fool is just that. Sanford Clark and his recording of The Fool is the kind of material that makes rock-a-billy history. I tip my hat and I hold my glass high and I say thank you Sanford Clark for The Fool.
Picture and record label courtesy of Johnny Vallis
Legends of Rock-a-billy
Perform a Once in a Lifetime
Show in New Orleans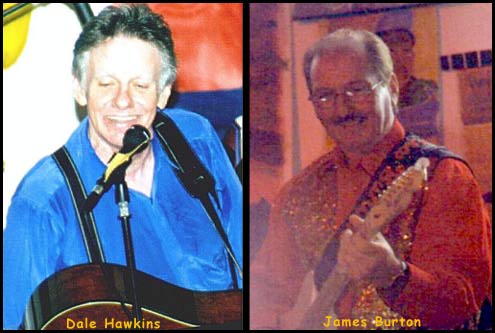 In a small renovated movie theater on Constantinople Street in New Orleans, on May 1, 2002, five legends of fifties rock n roll performed to a very enthusiastic audience. The Fine Arts Theater, a small night club hidden away from all the action of the Big Easy, in a residential area where tourist never venture came these legends. They parked on a very narrow street and entered almost unnoticed. Inside your were far away from anything resembling Harrah's or any Las Vegas casino. This was almost honky tonk atmosphere taking you back to the days of Hank Williams and some place he might have played after he was booted off the Grand Ole Opry.
The people in attendance would witness a miracle in promotion. Doing the impossible was Dr. Ike and the Knights of the Mystic Mau Mau calling the event the Ponderosa Stomp. Surely it couldn't have happened any place but New Orleans the city of Voo Doo magic, cats paws, frog skins, and Cajuns. How The Mystic Knights, pulled this off only they will ever know and they weren't talking. Some very unusual things it is whispered in certain circles do come down the Mississippi River on a foggy night into the Big Easy that no one can or ever will explain. From this environment came the Ponderosa Stomp. The Mystic Knights got Scotty Moore, D.J. Fontana, James Burton, Paul Burleson, Dale Hawkins, Lazy Lester, Warren Storm and rock-a-billy band that was the best I've ever heard.
The entire event should have been filmed and shown around the world it was that good. Lazy Lester began the evening doing some of his recordings that included blues, rock, and country. His performance was nothing less than outstanding and the audience shouted their approval. Warren Storm gave one of his best performance belting out his hits of the past in grand style, the audience loved it.
Dale Hawkins came on and tore the crowd up with some of his hit recordings then brought the house down when he and James Burton went into Suzie Q the crowd refused to let him quit. Finally Dale just said good night that's all thank you very much.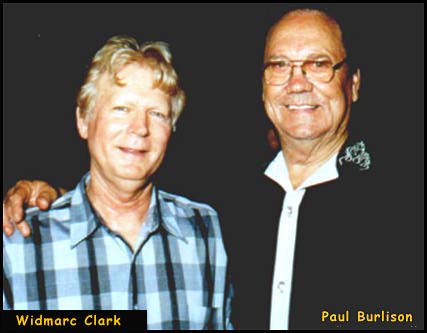 Paul Burlison has to be the one of the nicest people I have ever had the pleasure to meet. I have never meet anyone more friendly than Paul Burlison. Paul was easy to approach and not knowing me from Adam's house cat was more than happy to autograph the rock n roll trio album on Coral Records I had brought with me he gladly posed with me to have my picture taken with him. What a great human being. I had always wanted to meet him ever since, I heard his guitar playing with Johnny and Dorsey Burnette's recording of The Train Kept a Rollin, Honey Hush, and Tear It Up.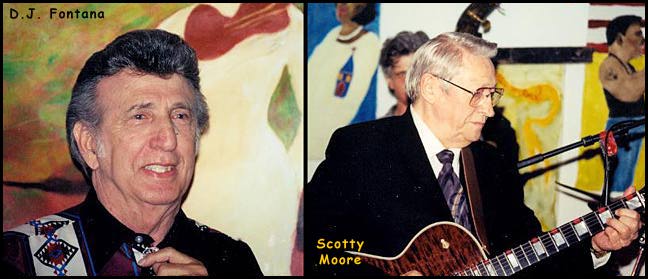 Rocky Burnette closed the show with Scotty, D.J., Paul, and James all on stage together making it a historical event. Rocky did all of his dad's hits Tear It Up, The Train Kept a Rollin, Your Sixteen Your Beautiful and Your Mine. Rocky not only sounds like his dad Johnny Burnette, but has many of his mannerisms. Rocky closed the show with Heart Break Hotel and called on Scotty to do the guitar break as Scotty broke into his guitar solo, Rocky reminded the audience you better get up here now with your cameras and take a picture of these legends on this stage together, because you will probably never see them on stage together again. Then he called them out by name Mr. Scotty Moore, Mr. D.J. Fontana, Mr. Paul Burlison, and the one and only Mr. James Burton. Ladies and gentlemen you have just experienced a rock n roll show that will never pass your way again. God bless you and good night.
Rocky was right, what that small audience in New Orleans had seen and heard that night would most likely be never seen again. When those legends walked out of the door and into the night a part of rock-a-billy history left with them for ever. Hail, Hail rock n roll!Posted May, 2002
When Country Music was King
In Washington, DC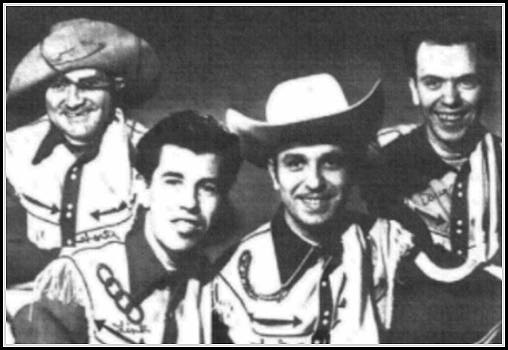 Lucky Wray and the Palmetto Boys were a part of the Kings Men.
Country music began to happen in Washington, DC in the fifties in a big way. The man behind it all was Connie B. Gay, who worked at WQMR and began to call hillbilly music country music. He then moved on to WARL in Arlington, Virginia where he and his protégé Don Owens introduced country music, not hillbilly music, country music, to Maryland, Virginia, and Washington, DC. Gay formed the Town and Country Jamboree TV Show. It aired on WTTG, channel 5 and Don Owens became the MC.
Five years later Washington, DC was the east coast Mecca of country music. Aspiring country music artist began to make their pilgrimage to the Washington, DC area. They just seem to pop up from every part of the country. Jimmy Dean was stationed at Andrew Air Force Base just outside DC and formed a band called The Texas Wildcats and began playing in Washington, DC at the Famous Club. Patsy Cline came up from Winchester, Virginia and joined Jimmy Dean at the Famous Club with her hit recording Walking After Midnight.
Pasty's career had come to a standstill and Don Owens took over as her manager and tried to get her career restarted. Finally Connie B. Gay took over the management responsibilities of Pasty and with his Nashville influence, her career began to take off again and Pasty never looked back. However, before Pasty made it big in Nashville, she paid her dues playing honkie tonks and carnivals anywhere she could make a buck in the Maryland, Virginia, Washington, DC area. Turner's Arena was the home of another country and western TV show broadcast live every Saturday night and emceed by the voice of Smokie The Bear. WMAL's Jackson Weaver, who was part of the comedy radio team Hardin and Weaver the most popular radio show in the Washington, DC area. The Turner's Arena Show featured many popular country music entertainers in the Washington, DC area. Some of those who appeared were Lucky Ray and the Palmetto Boys, Jimmy Dean, Pasty Cline, Elton Britt, George Hamilton, IV Vernon Taylor, Danny Denver, Bill Harrell and and his bluegrass band, Roy Clark, Clint Miller, The Stoneman Family, Grandpa Jones, Jimmy Case, Dale Turner, Bobby Stevenson and many many others.
Connie B. Gay was the biggest influence country music every had in the Maryland, Virginia, and Washington, DC area. Through his influence and help, many country music artist in the Washington, DC area. became super stars that might not have ever been heard of outside of the DC area. Connie B. Gay was inducted into the country music Hall Of Fame in l980.
It was in the fifties time frame that Lucky Wray decided he and his brothers needed to make a change if they were ever to make it in country music. He felt they needed to move to Washington, DC. They had been working all the military bases in eastern North Carolina to the coast, plus every night club. They played country music in high school to help support their family. Their dad Fred Wray, Sr. was seriously wounded in World War I and could not work. Their mother worked two jobs trying to make ends meet. The boys played music to help support their mom and dad. Their parents taught them to play guitar, drums, and piano.
The boys were planning their move to Washington, DC when Link was inducted into the army. While in Korea Link got sick on patrol duty and before he could get medical attention the command came for the biggest retreat of the Korean War. Thousands of army troops pulled out on foot headed into South Korea into one of the worst winter storms Korea had had in years. Link got pneumonia and his right lung had to be removed. Link was discharged and returned to North Carolina.
In 1954 the three hopeful musician moved to Washington, DC, but not before a stop off in Portsmouth, Virginia to play an engagement where they meet Shorty Horton, who became their base guitar player.
While Link was in the army, he played his guitar to his own accompaniment. His buddies would ask him to pick out all types of songs most of them he'd never heard of so he picked out what they hummed or sang. Link began to play a rough blues type picking along with the chording and with no amplifier Link would play very loud and go from chording to picking so fast it would sound distorted. Later on in a studio in Nashville, this type of picking and chording would create a million selling recording on Cadence Records Once in DC , they began to play at the Rendezvous Club. The band was called Lucky Wray and The Palmetto Boys. Of course already in town waiting on them was Jimmy Dean, Pasty Cline, Roy Clark, and other successful artist including Fred Foster who owned Monument Records and would add to his roster Billy Grammer, I Got To Travel On, Roy Orbison and Dolly Parton.
Three years later in l957, Lucky Wray would become Ray Vernon and record the hit record Evil Angel on the Cameo record label and then go onto record My Sugar Plum for Liberty Records in Hollywood and have his own TV show broadcast from the Raleigh Hotel with his co-host and manager Milt Grant. Link would record the million seller Rumble on Cadence and then the hit Rawhide which would sell seven-hundred and fifty thousand copies on Epic records and become a rock legend. Widmarc Clark would move to Washington, DC in 1957 and become friends with Link, Ray, Doug, and Shorty, a friendship that has lasted until this day. Vernon Wray, Doug Wray and Shorty Horton passed away several years ago.
I will be seeing Link at a show in Jacksonville, Florida on May the 18th. Posted May, 2002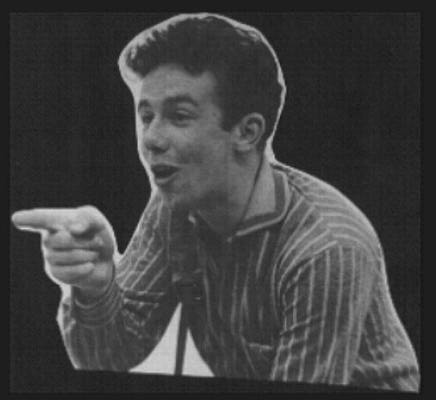 DALE HAWKINS
Dale Hawkins has been singing all his life and forty years later, he is still going strong. Dale performs all over the USA and Europe as he did in the 50's when his Checker Recording of Susie Q was a smash hit. Born in Goldmine, Louisiana, Dale got his inspiration to sing and perform from spirituals he heard from black field hands, he picked cotton with. When they broke for lunch the singing would begin and Dale joined in with them. They taught him how to play guitar and sing.
The work was back breaking, but the experience pointed the way toward a singing career that has lasted forty-four years and still going. From the cotton fields Dale sold news papers and bought himself a guitar. He began to play and sing the songs the black field hands had taught him. He then got a job at KWKH radio in Shreveport where he formed a band and began to play on the Louisiana Hayride Ride.
When Dale was sixteen, he and his band played local with a new kind of sound that he had created that was a hybrid mix of Cajun country and blues. On stage Dale would go into one of his self pinned composition that exploded into a rebel rousing performance that the crowds couldn't get enough off. The live performances lead to a recording contract with Checker Records in Chicago, which resulted in the recording of Susie Q, which became a smash hit for Dale in 1957, other hits followed,. La-do-da-da, A House, A Car and A Wedding Ring, My Babe, I Wanna Love Ya, and the comedy recording of See Ya Baboon. All released on Checker Records.
Dale's career has been nothing less than spectacular. He has recorded country and blues. He produced the hit Hey Baby for Bruce Channel on Smash Records. He has worked with many recording artist on different projects. Dale is kept busy these days in his recording studio The Hawk's Nest in Little Rock, Arkansas and a touring schedule that takes him all over the USA and Europe. At sixty-three, Dale Hawkins is going as strong as when he started his career at nineteen. Dale has been inducted into the Rockabilly Hall of Fame and he should be in the rock n roll hall of fame in Cleveland, Ohio. More on Dale Hawkins in our next report. Posted April, 2002
More to come soon!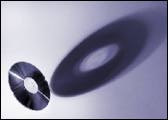 To contact us:
Widmarc Clark
Widmarc's Rock-a-billy Saturday Nite
1617 Pine Lane Drive
Cantonment, FL 32533
850-937-0686
E-mail: sheliamorris@att.net©1997-2002 Rockabilly Hall of Fame (R)